Christmas Hotel Promotions in Hong Kong
Hong Kong, a financial center of Asia as well as a shopping paradise, is coveted for tourists. As a saying goes, a foot of land in Hong Kong is worth an inch of gold. Hotel rooms in Hong Kong are usually much smaller than those of the same price in mainland China. The period during Christmas is a high season of Hong Kong's hotels. Fascinated fairs, great shopping discounts and the enjoyable weather still attract many people to visit Hong during the Christmas. China Highlights has handpicked six Hong Kong hotels with great value during the Christmas 2012.
Hong Kong Island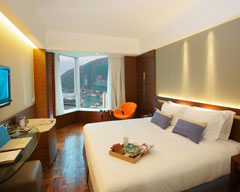 Luxry Room in L'hotelL'hotel Island South is located only 10-minute walking away from Hong Kong Ocean Park. The hotel provides shuttle buses from and to Hong Kong Ocean Park and many Hong Kong Metro Stations. It is very convenient to reach the city center. The hotel is good of value for its reasonable price, large (comparing to other Hong Kong hotels of the same price), clean and comfortable rooms and enjoyable surroundings.
Chinese Name: 香港南湾海景酒店
Address: 55 Huang Zhu Keng Avenue, Hong Kong
Price From $ /per Night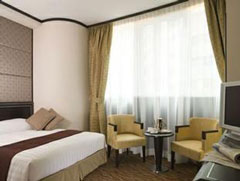 King bed room in the Mingle Place by The ParkMingle Place by The Park is located adjacent to local attractions Wan Chai Park and Happy Valley Racecourse. Hong Kong Metro Wan Chai Station and Hong Kong Convention and Exhibition Centre are both within walking distance. Prices are quite cool considering the place. The hotel rooms are small and clean. Please notice that the hotel has no elevator.
Chinese Name: 香港名乐居
Address: 143 Wanchai Road, Wanchai, Hong Kong
Price From $ /per Night
Tsuen Wan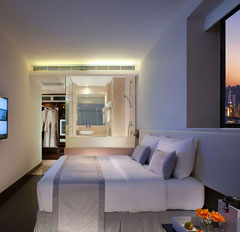 King Bed Room in Silka Far East HotelSilka Far East Hotel is central-located in Tsuen Wan. It is a good place to stay if on a budget. The hotel rooms are small but clean and well-designed. Many local, famous mouth-watering eateries, shopping malls are nearby. It is about a 5-minute walk from Hong Kong Metro Tsuen Wan Station and provides shuttle buses to and from the airport.
Chinese Name: 香港远东丝丽酒店
Address: 135-143 Castle Peak Road, Tsuen Wan, Kowloon
Price From $ /per Night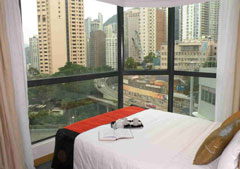 Single Bed Room in Panda HotelThe Panda Hotel Hong Kong is close to Disneyland, Great Buddha and the airport. It is within walking distance Hong Kong Metro station, from which you can easily reach to the busy life of Kowloon and Hong Kong Island. The room size is small but awesome for Hong Kong.  
Chinese Name: 香港悦来酒店
Address: 3 Tsuen Wah Street, Tsuen Wan, Hong Kong
Price From $ /per Night
Mong Kok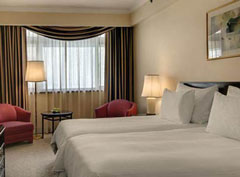 Standard Room in Anne Black Guest HouseAnne Black Guest House (YWCA) is a clean and decent budget hotel. Hotel rooms are small but comfortable. It is located adjacent to Ladies Street, a popular shopping market in Hong Kong, and Hong Kong Metro Mong Kok Station. Both are about 10 minutes by foot.
Chinese Name: 香港女青柏颜露斯宾馆
Address: No.5 Man Fuk Road, Mong Kok, Yau Tsim Mong, Hong Kong
Price From $ /per Night
Sai Wan (Kennedy Town)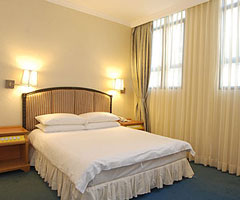 Deluxe Room in Hong Kong Cosco Hotel Hong Kong Cosco Hotel is cheaper than most hotels in Hong Kong. It situated about a 10-minute walking from Causeway Bay, which is one of Hong Kong's major shopping districts. It holds many famous shopping centers, including Sogo, Times Square, World Trade Centre and Hysan Place. The rooms of the hotel are small but clean and well-served, though it is a bit far from a Hong Kong Metro station. 
Chinese Name: 香港中远酒店
Address: No.5 Man Fuk Road, Mong Kok, Yau Tsim Mong, Hong Kong
Price From $ /per Night
More Links
Best-located Budget Hotels in Shanghai
Articles on Hong Kong
How to Plan a Family Tour of Hong Kong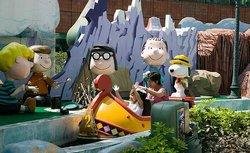 What do you all most enjoy? Amusement parks, nature, scenic sights, historical sites, shopping, hiking, beaches, camping or eating? Hong Kong has all these things to do and see.