Dalian Zhoushuizi Airport Hotels
Search Dalian Zhoushuizi Airport hotels based on price and rate, or view our handpicked Dalian Zhoushuizi Airport hotels perfect for catching an early flight or a overstay.Aviation Hotel Dalian, a three-star hotel located only 280 meters from Zhoushuizi Airport, is our best seller. Dalian Zhoushuizi International Airport is located 10 kilometers northwest from the city center of Dalian. It is the biggest and busiest airport in Northeast China. It ranks the fourth biggest in China in terms of passengers' throughput, after Beijing Capital International Airport, Shanghai Pudong International Airport and Guangzhou Baiyun Airport. Dalian Zhoushuizi Airport services domestic flights to major cities in China, including Beijing, Shanghai, Hangzhou, Guangzhou, Shenzhen, Chongqing and Sanya, as well as international flights to Paris, Okayama, Delhi, Frankfurt, Kuala Lumpur, London, Los Angeles, Tokyo Narita, Osaka Kansai, Bangkok, Melbourne, Vancouver, Sydney and Singapore.
Note: Please make sure you have "cookies" enabled on your browser before proceeding with your enquires on our website.
Nearby Places
Airport
Train Station
Attractions
Business area
Administrative District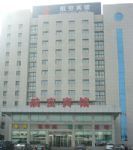 Location: Dalian Zhoushuizi Airport(288M)