Guangde Hotels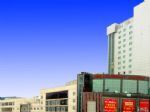 NO.113 Jingxian Street, Guangde
The Xuancheng Guangde County Hengshan Hotel is located in the center of Guangde Country, about 1km from Guangde Railway Station. ...
No.726,Hengshan South Road,Guangde
The Huadong Hotel is located in the busy area of Guangde Country, Anhui Province. ...
Note: Prices vary with date(s) of stay. Continue and enter your date(s) for the true price.