Hongcun Hotels

No.27 Hongcun Qian Street, Hongcun Town, Yixian, Huangshan
The Hongcun Huiyuanju Inn is located in Hong Avcient Village, enjoys beautiful environment. It is about 40km from Tangkopu. ...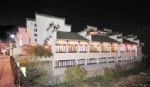 Hong County, Qian Town, Huangshang
The Huangshan Hongcun Hotel is located beside the South Lake in Hong Village. It is about 35km Huangshan Scenic Area and 60km from ...
Note: Prices vary with date(s) of stay. Continue and enter your date(s) for the true price.