The Yellow Mountains Hotels
Yellow Mountains is a mountain range located in Huangshan city in southern Anhui Province. It is one of the ten most famous mountains in China, and is a sacred mountain in Chinese Taoism, as well as a reputable summer resort. It was inscribed onto the UNESCO World Heritage List in 1990, and is renowned for its scenery, sunsets, imaginatively named pines, oddly shaped rocks, a sea of clouds, hot springs, and winter snowscapes.
Flights, trains, and long distances connect Huangshan city to many major cities in China. Flights from Beijing, Hong Kong, Guangzhou, Shanghai, Chongqing, Hefei, Tianjin, Haikou, Shenzhen, Fuzhou, Hangzhou, Wuhan, Xi'an, Guilin, Kunming, Xiamen, Zhuhai, and Macau to Huangshan city are available. There are direct trains bound to Huangshan city from Beijing, Shanghai, Qingdao, Nanjing, Hefei, Jingdezhen, Nanchang, Xiamen, Yingtan, and Fuzhou. The Yellow Mountain Scenic Area is linked to Huangshan city by direct buses from Tunxi Long-distance Bus Station.
High-ranking hotels at Yellow Mountains are available, but as they are in a relatively isolated area, they are not comparable with those in the city. Budget hotels are also accessible at the foot of the Yellow Mountains. You can see the locations of hotels near the Yellow Mountain on the maps below and select them according to rates, stars, and recommendations of travelers who have used China Highlights. Your individual travel advisors at China Highlights are always ready to give a helping hand. Our 24/7 advice numbers in China are as follows:
800-2682918 (free in the U.S. and Canada); 86-773-2831999 (international)
Note: Please make sure you have "cookies" enabled on your browser before proceeding with your enquires on our website.
Nearby Places
Airport
Train Station
Attractions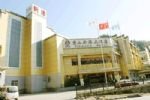 Location: The Yellow Mountains(1.06KM)