Jiuquan Hotels

No.6 Cangmen Street, Suzhou District, Jiuquan, Gansu Province


Based on 35 TripAdvisor traveller reviews

No.16 Mogao Road, Xincheng District, Jiuquan


Based on 35 TripAdvisor traveller reviews

2 Xiaoxi Street, Jiuquan


Based on 35 TripAdvisor traveller reviews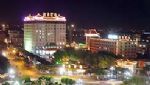 No 33 Jiefang Road, Jiuquan
The Jiuquan Hotel is located at the city center of Jiuquan, adjcent to the Jiuquan Government. It is about 20 minutes' drive to the ...

Based on 35 TripAdvisor traveller reviews
Note: Prices vary with date(s) of stay. Continue and enter your date(s) for the true price.