Kashgar Hotels
Almost all Kashgar hotels are located in the urban area. Outside the urban area one can rarely find a hotel, not even hostel or home-like accommodations.
Kashgar, in Xinjiang Province in the west end of China, is home to over 31 ethnic minorities. It is a less-developed area of China. The highest rated hotels have been given four stars. The prices of Kashgar hotel rooms on China Highlights are all-inclusive (government tax and breakfast fee). If you have any problems, please call our individual advisor's 24/7 phone number in China:
800-2682918 (free in the U.S. and Canada)
86-773-2831999 (international)
Rated
4.28
/5 based on
42
customer reviews
No.337 Seman Road, Kashgar
Kashgar Seman Hotel was once the Soviet Consulate, which was founded in 1890. It was extended to a Islamic garden style hotel in 1984. ...
Near: Kashi Airport
242 Seman Road,Kashi
The Barony Hotel Kashgar is the only four-star hotel in Kashgar City, Xinjiang Province. It is adjacent to the famous Aitgar Mosque, ...
Near: Kashi Airport
No.8 Renmin East Road, Kashgar
The Kashgar Tianyuan International Hotel is just located on the west of the People's Square at the city center of Kashgar. The hotel ...
Near: Kashgar Old Town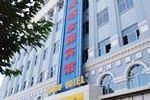 North Xiyu Squere, Kashgar
Opened in 2007, the Yambu Hotel is located near the Xiyu Squere, in the downtown of Kashgar....
No.144 Seman Road, Kashgar
The Qiniwak Hotel is located in the bustling downtown area of Kashgar City, Xinjiang Province. It is 1.2km awau from the Aitgar Mosque, ...
Near: Kashi Airport
Note: Prices vary with date(s) of stay. Continue and enter your date(s) for the true price.