Longsheng Hotels
Search Longsheng hotels based on price, rate and location. You can get advice on Longsheng hotels from your individual travel advisor and real information, advice, and opinions from the reviews written by tens of thousand of travelers who have used our reliable and professional services.
Popular Longsheng hotels are in the Longsheng Terraced Fields Scenic Area and the Longsheng Ailing Hot Spring Scenic Area. Longsheng hotels from budget hostels to five-star establishments are available in these two scenic areas.
Longsheng, a Various Nationalities Autonomous County of Guilin, is 87 kilometers northwest of Guilin City, or about a two-and-a-half hour drive. Within it is located one of the most popular attractions of Guilin: Longsheng Terraced Fields (Longsheng Rice Terrace), 22.5 km from Longsheng County. Rice terraces are built along the mountain slopes from the foot to the top of the mountain. When you stand on the top of the mountain, the rice terraces are like a dragon's backbone twisting off into the distance. China Highlights has been located in Guilin and in the Longsheng hotel business since 1959, and online since 1998.
Rated
4.55
/5 based on
121
customer reviews
Pingan Village, Longsheng Country, Guilin, China
The Pingan Inn is situated in the famous Longji Terraces Scenic Area. It is 100km away from the Guilin Railway Station and the Guilin ...
Near: Longji Terraced Field
Pingan Village, Heping Town, Longsheng
Longji Star Wish Resort is located in the Longji Terraces Scenic Spot, which is a minority inhabited area at an altitude of more than ...
Near: Longji Terraced Field
Pin'an Village, Longsheng County, Guilin, Guangxi Province, China
The Longsheng Lian Lodge Hotel is located in Heping Village. The hotel is famous for its Chinese traditional wood construction without ...
Near: Longji Terraced Field

The Ping'an Terraced Fields scenic area, Longsheng(利德连锁旅舍(桂林龙脊店))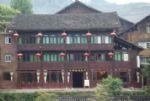 Ping'an Village, Heping Town, Longsheng Country, Guilin
Longying Hotel is one of the earliest business hotel in the famous scenic spot-Longji terrace. Now it is the biggest hotel at Longji. ...
Near: Longji Terraced Field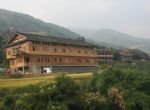 Terrace Scenic Area, Longji Ancient Village, Longji
The Waterfront Hotel covers an area of 2 mu. It is 26km from Longji Downtown, 90km from Guilin Railway Station and 100km from Guilin ...
No.1 Xinglong South Road, Longji Country, Longsheng
The Bilian Hotel is located in the Longji Country, about 2km from the downtown, 88km from Guilin Liangjiang International Airport ...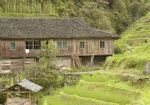 Ping'an Village, Longji
The Bamboo Garden Hotel Longji is located in the Pingan Village. It is about an hour and a half drive to Guilin Liangjiang International ...
Near: Longji Terraced Field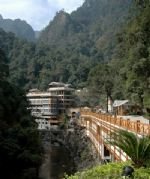 Longsheng Hot Spring Resort
The Longsheng Hot Spring Hotel is located in the Longsheng Hot Spring Resort, adjacent to the Longsheng Hot Spring National Forest ...
Hotspring Scenic Area, Jiangdi Town, Longsheng
Longsheng Hot Spring Resort i\s located at the forest district.Tourists can feel the fresh air and natural wood in Hot Spring center ...
Near: Longji Terraced Field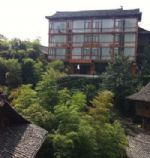 Pingan Village, Longji Terrace Field, Longsheng
The Zhenchen Resort is located on the Guilin Longji Terrace, within walking distance to many famous scenic spots. It is 92km away ...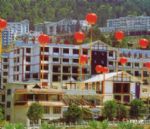 Sangjiang Development Zone North, Longsheng Country, Guilin
The Longji International Hotel is situated at northern shore development zone of Longsheng county. It's a business hotel which built ...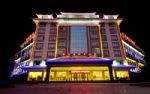 Sanjiang North Band Development Area, Longsheng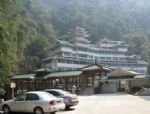 Hotspring Resort, Longsheng
The Longfu Hotel is located in the core of Longsheng Hotspring Center. The decoration of the hotel blend into modern style and ethnic ...
Note: Prices vary with date(s) of stay. Continue and enter your date(s) for the true price.