Qingdao Hotels
Popular Qingdao accommodations are mainly in the city or in the Laoshan Mountain scenic area.
Qingdao is a famous coastal tourist city in China. Qingdao attractions are mainly in two tourist areas: the coastline of Qingdao City and the Laoshan Mountain scenic area. Hotels along the coastline are more expensive than those in the city. If your budget is limited, you can choose to stay in Sifang District, which has the most economical hostels of Qingdao and transportation is convenient. If you would like to visit Laoshan Mountain, a two-day trip is advised. Stay in the hotels is far from the hustle and bustle of city. The expense is higher than that in the city. Our individual travel advisor will help you to find the Qingdao hotel which caters your personal demands perfectly. Feel free to contact us at service@chinahighlights.com or call our 24/7 advice number in China:
800-2682918 (Free in the U.S. and Canada)
86-773-2831999 (international)
Rated
4.4
/5 based on
54
customer reviews

39 Feicheng Road, Shinan District (青岛市南区肥城路39号)


27 Huangpujiang Road, Economy and Technique Development Zone, Qingdao


NO.138,Aomen Road,South District,Qingdao,Shandong Province


Block B, Tower 11, No.288 Ningxia Road, Shi'nan District


Chongqing North Road 59 (青岛市重庆北路59号)


(Huiquan Road 9A, Shinai District(青岛市市南区汇泉路9号甲)


No.216 Chongqing North Road, Chengyang District, Qingdao, Shandong Province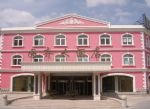 No.75 Southern Haier Road, Qingdao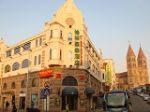 Zhongshan Road 77, Shinan District

Note: Prices vary with date(s) of stay. Continue and enter your date(s) for the true price.