Shenzhen Baoan Airport Hotels
China Highlights has selected hotels near Shenzhen Bao'an International Airport of great deals for you to select from. Shuangxiwei Hotel Shenzhen, a three-star hotel from only $64, is the most popular for its great location (only 500 meters from Baoan Airport) and reasonable price. You can see the layout of the hotels near Shenzhen Bao'an International Airport on the maps below. Choose the hotel fitting you best and we will do the rest. Shenzhen Bao'an International Airport located in Bao'an District, Shenzhen, is 32 kilometers from the city center. It is one of the four largest international airports and an important aviation hub of China. It is served by over 100 domestic and international airlines connecting with over 80 destinations. It has airport shuttle buses to the city center of Shenzhen and Shenzhen Railway Station with approximately 15-minute headways from 6:00am to 21:00pm and 8:00am to 22:00 pm respectively.
Note: Please make sure you have "cookies" enabled on your browser before proceeding with your enquires on our website.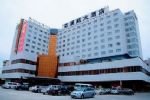 Location: Shenzhen Baoan Airport(520M)