Top 5 Best-located Budget Hotels in Beijing
The Top Five Best-located budget Hotels in Beijing are selected from the hotels located around the five most popular accommodation areas of Beijing, namely Wnagfujing Pedestrian Street, the Forbidden City/Tiannanmen Square, Beijing International Convention Center/the Olympic Park, Beijing South Railway Station and Beijing International Airport.
Beijing, the capital of China, is the cultural, political, and economic center of China. The city combines ancient culture and modern development, has the highest number of World Heritages Sites and is home to the headquarters of almost all of China's largest state-owned companies. It is the top destination of China. Choose a good value hotel with easy transportation or walking distance to restaurants, shops and the place that interests you most is crucial to your trip.
1. Wangfujing Street: Beijing Double Happiness Courtyard Hotel
No.37 Dongsi Sitiao, Dongcheng District, Beijing
Price From: $
Location: Wangfujing (1.6km), Tian'anmen Square (2.5km), Capital Airport (25km)

The Beijing Double Happiness Hotel, opened in 2007, is built in traditional Beijing's Siheyuan style (quadrangle, a compound with houses around a square courtyard). It is the former house of a gifted scholar and dignitary during the Qing Dynasty, Ji Xiaolan.
All rooms of the hotel provide domestic and international direct-dial phone service, an air conditioner, a television and free internet access; and decorated with traditional Chinese furniture and original artworks. 24-hour room service is available.
2. The Forbidden City: Days Inn Forbidden City
No.1 Nanwanzi Lane, Nanyanhe Avenue, Dongcheng District, Beijing
Price From: $
Location: Forbidden City (935m), Capital Airport (24km), Wangfujing (734m).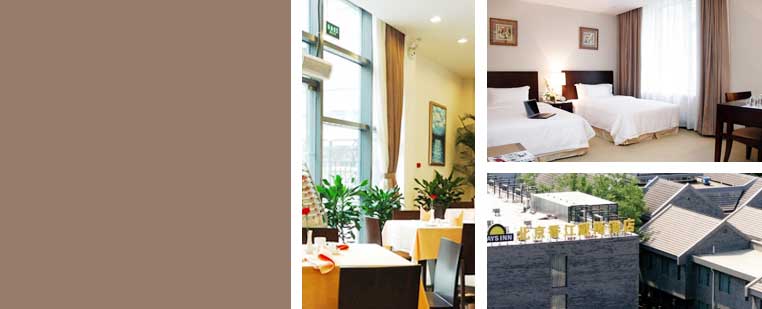 The Days Inn Forbidden City is located in the area just southeast of the Forbidden City/ Tiananmen Square. The hotel has old-world charm of its original courtyard-style architectural plan typical of old Beijing, surrounded by wisteria and 1000-year-old cypress trees. With its clean, comfortable and moderately priced accommodations, the Days Inn Forbidden City Beijing caters to both the business traveler and the tourist crowd. Broadband Internet access (both Ethernet and Wi-Fi) and cable TV, the latter delivered to wide-screen LCD televisions are available in every room.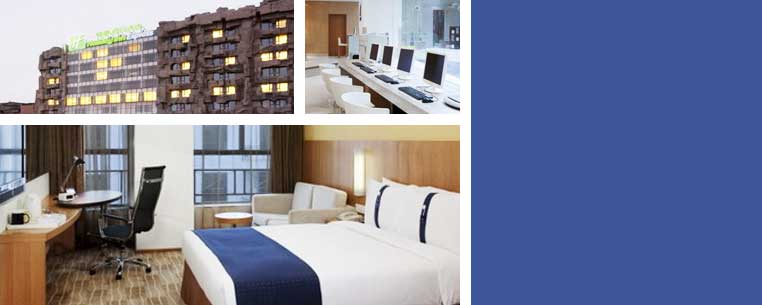 4. Beijing South Railway Station: Holiday Inn Express Beijing
36 Nanwei Road, Xuanwu District, Beijing
Price From: $
Location: Beijing Railway Station (800m), Wangfujing (4km), Capital Airport (27km).
The Holiday Inn Express Beijing, open in 2008, offers free high-speed Internet access and Wifi in each room. Rooms are well-appointed with comfortable beds and flat-screen LCD televisions. Beijing's Holiday Inn Express provides guests with a complimentary breakfast buffet each morning. Other meals are offered at the hotel's Chinese restaurant and there are many eateries in the surrounding neighborhood. Other amenities include parking areas, a business center and a self-serve laundry facility.

5. Beijing Capital International Airport: Days Hotel Beijing New Exhibition Center
No.13 Qianyi Street, Tianzhufu, Shunyi District, Beijing
Price From: $
Location: Capital Airport (1km), the Forbidden City (22km).

The Days Hotel Beijing New Exhibition Center offers free airport transfer service, only a 5-minute drive from Beijing Capital International Airport to the hotel. All rooms are provided with broadband internet access and safe. The complimentary Wi-Fi covers all public areas and rooms of the hotel. As for dining service, there is a western restaurant, a cafe with classical decoration and a bar in the hotel. Other facilities in the hotel include a business center, 4 meeting rooms and a gym, etc.
Travel Advice or Question? Ask us here

800-2682918 (USA & CA)

86-773-2831999

1800-764678 (AU)

0800-0327753 (UK)

800-8793-007 (China)
Q:
James Hajadi
Asked on 8:45 PM Dec. 26 2012
Reply
I''m planning a trip in March 2013 to Beijing and surrounding places, but based in Beijing. Places of main interests are Great Wall, Forbidden City, Tianjin. Will stay for 3 days in Beijing. Can you recommend a travel plan ?Thanks and kind regards,James Hajadijames_hajadi@yahoo.co.id


Hi James, thanks for your inquiry. We are very glad to assist planning your Beijing & Tianjin trip.


In order to give you an accurate quotation please kindly advise:


1. Number of people in your group


2 . Starting date of the tour


3. Length of stay in China


4. Class of Hotel: 3 / 4 / 5 star


5. Estimative total budget per person


After getting further information from you, we will send you a detailed itinerary.
Whitney Liao Replied on 05:16 AM Dec. 27 2012