Wutaishan Hotels
Wutaishan hotels are mainly concentrated in Mount Wutai Scenic Area, Tairou County and is near Nanshan Temple, two kilometers from Tairou County.
Wutaishan (Mount Wutai Scenic Area) is in Taihuai County, 78 kilometers northeast from Wutaishan County in Xinzhou City of Shanxi Province in northern China. It is 150 kilometers northeast from Xinzhou City and 240 kilometers northeast of Shandong's provincial capital of Taiyuan. Wutaishan was inscribed on UNESCO's World Heritage Site List for 2009. From budget hostels up to four-star hotels, all are available in the Mount Wutai Scenic Area. Wutaishan hotel prices on China Highlights are all-inclusive (government tax and breakfast fee). If you have any problems, please call our individual advisor's 24/7 advice number in China:
800-2682918 (free in the U.S. and Canada)
86-773-2831999 (international)
Rated
4.4
/5 based on
10
customer reviews
Taihuai Town, Wutaishan, Shanxi, China
The Yinhai Resort is located in the Wutai Mountain Scenic Area, facing the famous Nanshan Temple. It is 49km away from the Wutaishan ...
Huai Town, Wutaishan, Shanxi
The Huahui Hotel is located in Wutaishan, the famous Buddhism tourist resort. It is 4km away from the Wutai Mountain and 30km away ...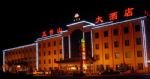 Shahe Town, Fanzhi County ,Wutaishan, Shanxi
The Wutaishan Hotel is lcoated in the Shahe Country of Wutaishan City, about 1.5km away from the Wutaishan Railway Station and 48km ...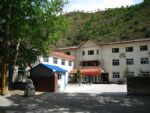 Dachegou Village, Taihuai Town, Taihuai Town
The Shiyou Hotel is located in the Wutaishan Scenic Area, about an hour and a half drive to the Wutaishan Railway Station. ...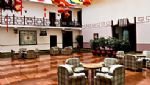 Huibin Building, Mingqing Street, Wutaishan

Note: Prices vary with date(s) of stay. Continue and enter your date(s) for the true price.