Xiamen Gaoqi Airport Hotels
Xiamen Gaoqi International Airport is the only airport serving Xiamen city, located at Dailiao Road in Huli District, 10 kilometers from the city center. It is one of the largest airports in China, ranking 11th in terms of passenger throughput. It serves departures to most major cities in China, including Beijing, Changchun, Changsha, Chengdu, Chongqing, Dalian, Fuzhou, Guangzhou, Guilin, Guiyang, Haikou, Hangzhou, Harbin, Jinan, Kunming, Lanzhou, Nanchang, Nanjing, Nanning, Ningbo, Qingdao, Sanya, Shanghai, Shenyang, Shenzhen, Shijiazhuang, Taiyuan, Tianjin, Wuhan, Wuyishan, Xi'an, Zhengzhou, Zhoushan, and Zhuhai, as well as international airlines that go to Kuala Lumpur, Osaka, Seoul, Singapore, and Amsterdam.
The airport has a direct bus service that goes between the city center, Lundu Port, and Xiamen Railway Station.
Moderate and budget hotels and hostels are concentrated around Xiamen Railway Station, and high-ranking hotels are also available. You can see the locations on the maps below and select them according to rates, stars, and recommendations of travelers who have used China Highlights. Your individual travel advisors at China Highlights are always ready to give a helping hand. Our 24/7 advice numbers in China are as follows:
800-2682918 (free in the U.S. and Canada); 86-773-2831999 (international)
Note: Please make sure you have "cookies" enabled on your browser before proceeding with your enquires on our website.
Nearby Places
Airport
Train Station
Attractions
Exhibition Centers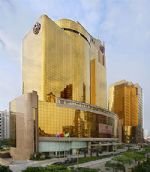 Location: Xiamen Gaoqi Airport(5.13KM)