Big Wild Goose Pagoda Hotels
The Big Wild Goose Pagoda, located in Da Ci'En (Great Kindness and Grace) Temple, is one of the landmarks of Xi'an. It was build during the reign of the Emperor Gaozong of the Tang Dynasty, and was mainly used for storing sutras and figurines of the Buddha that were brought to China from India by Xuanzang, the most renowned the Buddhist translator and traveler in Chinese history. Xuanzang was also the first abbot of the Great Kindness and Grace Temple, one of the best preserved ancient pagodas.
Nearby attractions include the Shaanxi Provincial Museum and the Bell Tower. Numerous buses go to the pagoda, such as bus no. 5, 19, 21, 24, 27, 30, 34, 41, 224, 400, 401, 408, 500, 501, 521, 527, 601, 606, 609, 610, 701, and 715.
Highly rated hotels and hotels in the style of an ancient Chinese palace are available. China Highlights provides information on hotels near the Big Wild Goose Pagoda that offer great deals, and has labeled the location of these hotels on the following maps. Choose the hotel that best fits your needs or send an email to your individual travel advisor at China Highlights at service@chinahighlights.com and get a reply within 2 to 12 hours.
Note: Please make sure you have "cookies" enabled on your browser before proceeding with your enquires on our website.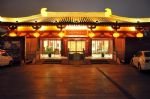 Location: Big Wild Goose Pagoda(113M)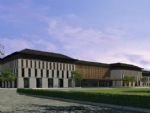 Location: Bell Tower(3.24KM), Big Wild Goose Pagoda(59M)