Xining Hotels
Many Xining hotels are centralized in the city center, in Chengdong District near the Xining railway station, near the Xining long-distance bus station, and areas with easy access to hot tourist destinations such as Qinghai Lake and Taer Monastery.
Xining, located in east Qinghai Province of northwestern China, is the largest and most populous city on the Tibetan Plateau. It is the transportation, economic, and cultural hub of Qinghai Province. It is home to more than 34 ethnic minorities. A tour of Qinghai Lake held every July and August since 2002 makes Xining more renowned worldwide. The altitude of the Xining area is 2261 meters. Be aware of the risks of altitude sickness and knowing how to deal with it is very important for tourists traveling to Xining. Xining accommodations are easily accessed, from deluxe hotels to budget hostels. As Xining is a comparatively remote area of China, deluxe Xining hotels are not comparable with those in other large China cities such as Beijing, Shanghai, and Hong Kong. Call your individual travel advisor's 24/7 advice number in China: 
800-2682918 (free in the U.S. and Canada)
86-773-2831999 (international)
Rated
4.53
/5 based on
16
customer reviews

No.1 Qiyi Road, Chengdong District, Xining
Qinghai Huitong Jianguo Hotel is located on the crossroad of Jianguo Road and Qiyi Road, adjacent to the railway station and coach ...

Based on 35 TripAdvisor traveller reviews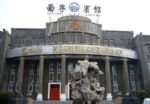 No. 348, Qiyi Road, Xining, Qinghai, 810000
The Xining Hotel is located in the heart of the city. The hotel features its Garden-style courtyard and Soviet-style buildings. It ...
Near: Xining Railway Station

Based on 35 TripAdvisor traveller reviews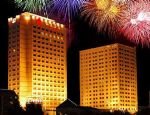 38,Huanghe Road, Xining, Qinghai Province
Yinlong Hotel is located in the city center. It is surrounded by the beautiful environment to abut with the grand Central Square, ...

Based on 35 TripAdvisor traveller reviews
Note: Prices vary with date(s) of stay. Continue and enter your date(s) for the true price.