5 Star Hotels in Yangshuo
Deluxe hotels in Yangshuo are full of pastoral scenery. They stand in harmony with the charming attractions of the city.
Surrounded by karst peaks, Yangshuo, as a county of Guilin city, is a paradise for backpackers. It is a small, picturesque town full of happiness. West Street, Moon Hill, Li River, and Yulong River are the essence of Yangshuo's attractions. Deluxe hotels in the area stand in harmony with the charming attractions. For instance, Yangshuo Resort is situated on the banks of the Yulong River, surrounded by hills and waters and in proximity of Moon Hill, making it a rich pastoral scene. China Highlights provides booking services for deluxe hotels in Yangshuo. Please choose a deluxe hotel from the list below.
1 five star hotels in Yangshuo. Price is valid from Jan. 26, 2015 to Jan. 29, 2015. Please use the search engine on the left to see prices for other dates.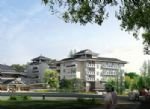 Green Lotus Hotel

Overall ratings: 4.81 of 5
Location: West Street of Yangshuo