Zhangzhou Hotels

No.33 Xinhua North Road, Xiangcheng District, Zhangzhou
Overseas Chinese Hotel Zhangzhou is located near the Zhangzhou Railway Station.

8 Shengli West Road, Zhangzhou, Fujian Province



38 Zhaoshang Avenue, Zhangzhou Dvlp District


Shengli Road 4, Zhangzhou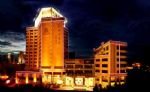 4 Shengli Road, Zhangzhou, Fujian Province
The Zhangzhou Hotel is located at the city center of Zhangzhou, just beside the Shangli Park. It is 30km away from the Zhangzhou Railway ...


Nanchang Road 121, Zhangzhou


Jiangjunshan Park, Chenzheng Road, Yunxiao, Zhangzhou, Fujian Province


No.289 Nanbin Avenue, Developmen Zone, Zhangzhou

Note: Prices vary with date(s) of stay. Continue and enter your date(s) for the true price.