Huangshan Food
Food in Huangshan belongs to Hui cuisine (or Huizhou cuisine). Huizhou cuisine is one of China's eight regional cuisines.
History
This style dates from the South Song Dynasty (1127-1279), when it began in Shexian County (Huizhou Prefecture in ancient times).
Features
Huizhou cuisine is known for its roasting, stewing, braising, and quick-frying. This style is particular about seasoning and duration and degree of cooking, and advocates stock. Oil is carefully chosen to benefit the bowels and skin. Color is considered important to increase aesthetic effect and is harmonized with fragrance and taste.
Dishes and Snacks
Famous dishes and snacks in Huangshan City are smelly mandarin fish, Mao bean curd, stone cake, baked yellow crab cake, and Wucheng dried bean curd. See below.
Huangshan Featured Food
Smelly Mandarin Fish
Smelly mandarin fish, despite the name is a dish famous for its good taste and aroma. A lot of travelers, who come to Huangshan, are attracted to taste it by its reputation. They all speak very highly of it after tasting the fish.
Smelly mandarin fish got its name because the live fish has a slimy smelly skin that deters predators.
History: The dish has a history of more than two hundred years and has maintained its popularity, with the name mandarin fish appearing in many pieces of Chinese literature.
Features: The offensive skin is scraped off as the first stage of preparation. Smelly mandarin fish is also called fresh preserved mandarin fish because once the skin has been removed it is salted as if for preserving the meat. The cooked fish is crisp and tender with a special aroma, and appeals to a wide spectrum of customers.
The stench of the live fish is in great contrast with the sweet smell of the dish, which adds an ironic charm, and has helped it become one of the classic dishes of Huizhou cuisine.
Yellow Crab Shell Cake
Yellow crab shell cake uses first-class funky dried vegetables and fresh fatty meat as fillings. It's slowly roasted in a specially-made oven with a charcoal fire.
Because its color looks like the yellow of a boiled crab shell, it gets the name "yellow crab shell cake". It's an ideal breakfast or snack.
Mao Tofu
Mao tofu is also called Huizhou funky bean curd. "The taste is much better than the smell," people say. It's a traditional snack in Huizhou (Huangshan Prefecture) and an acquired taste. It could be considered as the Chinese alternative to a Stilton or Camembert cheese.
Best Eaten on the Street
Sellers traditionally carry the bean curd around in a container hanging from a shoulder pole. From one end dangles chopsticks and a pan, and from the other dangles the tofu, sesame oil and hot pepper. When the oil is heated up, the hot and odorous Mao bean curd, with sounds of "zizi" on the pan, awakens the locals' appetite. It's a special cultural experience to eat Mao bean curd from a street seller. People don't use bowls, and eat with chopsticks beside the pan.
Questions and Answers About Huangshan Food
Daniel Levit
2013-04-08
Show Answer
Looking for the best blooming tea flowers growing in china? Pls let me know if u can give me this information. Thanks & bedt re. Daniel Levit from Helsinki Finland
Dear Daniel, I regret that I am not familiar with this. I only know something like the tea flower is the city flower of Jinhua city belongs to Zhejiang province. There is a tea flower park there, you could see many kinds of flowers in the park. Lussie Lu replied on 2013-04-08
Choo
2012-09-19
Show Answer
how far is the Pine Ridge hotel to the Bus Station to Shanghai?. I notice there is a 7 hour gap between 0630 and 1330 bus schedules. Is there no other buses to Shanghai around mid morning?How do I get to the hotel from the Scenic Area bus stop? Thanking you in advance
Hi Choo, it is not far from Tangkou Bus Staion, about 10-15mins walking. There is a departure from Tangkou Bus Station to Shanghai at 07:20 & 13:00. You can also take the bus from Tunxi Bus Station. The bus departs at 7:50, 10:20, 13:10, 16:20, 18:00, 19:20. It is about 70km from your hotel, CNY150 by taxi.
Whitney Liao replied on 2012-09-21
Zach
2012-05-19
Show Answer
I will be in Huangshan/Yellow Mountain area right around next Tuesday. After a good day of hiking around, I was wondering where is a nice spot to go get a drink? I''ll be staying at the Pine Ridge Lodge, but I have no clue where that is in proximity to anything else; first time China traveler here. I must say though that I can''t wait for the views
Hello Zach, what kind of drink do you like? Tea or coffee? I believe you can easily find one near the place you are going to stay. Have a nice trip to Huangshan. Simon Huang replied on 2012-05-20
AKR
2011-04-06
Show Answer
Hi, is there a place where you can find any international cuisine? Or may be something like Subwat, McD or anything like that?
Hi Akr There is KFC and western resturants in Huangshan city. But only Chinese food on the top of the mountain. Are you planning to visit Huangshan? I could help you with your tour, please feel free to contact me: william@chinahighlights.com William Huo Travel Advisor William replied on 2011-04-07
April Offer $25 Coupon
Send your inquiry before Apr. 30, 2014, and we will email you a $25 coupon.
The coupon is valid till Dec. 31, 2014, for paying tour packages worth $250 or up.
The coupon cannot be used for paying flight tickets, train tickets, hotel rooms and day trips.
Travel Advice or Question? Ask us here
You might like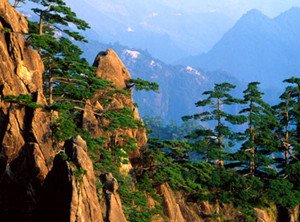 Photography Tips at the Yellow Mountains

China Highlights
Huangshan Travel Guide