Huangshan Travel Tips
Climate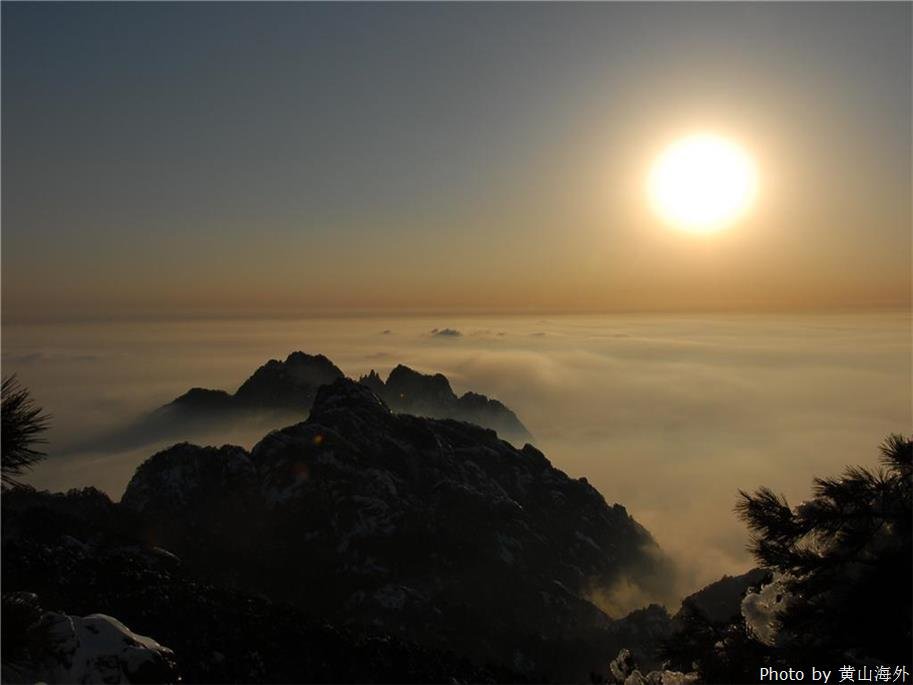 See the sun jump out from the sea of clouds.
Huangshan is most famous for its sun rise and sea of clouds. However, these wonders are subject to weather conditions.
The weather on the mountain is changeable. However, you don't have to be upset about the possibility of inclement weather, because the landscapes of Yellow Mountain are outstanding at any time. After the rain, the scenery is enhanced with the sea of clouds, rainbows and waterfalls.
The peak tourist season lasts from April to November. However, the winter season is considered a better time to view the sea of clouds. Please note that paths up some peaks may be closed due to snow or footpath maintenance. More about Huangshan Weather
What to Pack
It is advised that suitcases and excess luggage be deposited at a hotel in the city or at the foot of the mountain. Just bring an overnight bag to the top of the mountain. A backpack is easier to carry.
Don't forget to bring a torch (you'll be walking in the dark if you want to get to a viewing point for the first rays of dawn); walking poles (if you use them); sunscreen; mosquito repellant, enough warm clothes (bearing in mind that it is several degrees colder at altitude), and waterproofs (an umbrella can be inconvenient when climbing or unusable in the wind). Bring warm clothes and wear trekking shoes with a good grip. Layers of clothes are practical for taking on and off when climbing the mountain. If feeling cold in your hotel room on the mountain, you can ask the hotel staff for additional quilts.
Food
Carry water/ other drinks to prevent dehydration and snacks to keep your energy levels up. It you want to save money and don't mind carrying more weight, you could buy provisions before you start to ascend the mountain. Although supplies are available, the prices are around three times more expensive at the mountaintop hotels and shops.
The cost of eating and shopping is very high on the mountain, because all items are carried up to the top by porters. Food in hotels and restaurants is expensive, but the quality is often not as good as similarly priced dishes in the city. Fortunately all food tastes much better after walking in the mountain air.
Safety
Watch your footing when climbing the steps and be mindful of your safety when taking photos. Particularly take your time and watch your step where there is snow or ice on the ground. Stop walking if you want to look at scenery or take photos.
There is no smoking allowed on the mountain, except in the smoking areas.
If there is a storm, please do not climb to the summits or stand under trees which may be struck by lightning.
Use a raincoat for protection from the wind and rain. Don't use an umbrella as it can be an inconvenience or even a hazard.
Please keep away from monkeys on the mountain. Don't bring out food in front of them.
Other Tips
During the peak season, as well as weekends and Chinese holidays, like International Workers' Day Holiday (May 1-3); National Day Holiday (October 1-7), and Spring Festival Holiday (1 week in January or February), Huangshan is a very popular destination. It is advisable to make your reservations as early as possible if you want to visit Huangshan in these periods.
Keep abreast of the latest weather information, and make appropriate preparations. This is the first thing to consider before traveling to Huangshan.
Those who have asthma, high blood pressure, heart problems or other health conditions should bring along enough medicine and water in case of emergency. Don't travel alone. Those to whom mountain climbing presents a serious health risk are recommended to take the cable cars and sedan chairs.
Tour guides are familiar with the Yellow Mountains, both the good points and the risks, so tourists should follow tour guides' suggestions and instructions. Don't ignore good advice, or else problems and accidents may occur.
There are hospitals in Huangshan CIty, 70 km (40 miles) from the foot of the mountains. If you develop serious symptoms it is advised that you use the sedan chair service and cable cars to get down the mountain and to a hospital as soon as as possible. There is no specialist mountain rescue service or medical center on the mountain.
Useful Travel Information
Banks
A Bank of China branch can be found inside Yellow Mountain Scenic Area. The bank clerks may not speak Engligh, so bringing an interpreter is advised. There is a cash point at North Sea Hotel.
Telephones
There are phone booths inside the scenic area.
Hospitals
Huangshan City People's Hospital
Add: 4 Suli Street, Tunxi District
Tel: 0559-2513765
Huangshan District People's Hospital
Address: 19 Taiping West Road
Tel: 0559-8532572
Second People's Hospital of Huangshan City
Address: 72 Daizhen Road, Tunxi District
Tel: 0559-2512978
Useful Telephone Numbers
Fire: 119
Police: 110
Ambulance: 120
Consumer Complaints: 12315
Tourist Complaints: 2517464
Local Telephone Number and Long-Distance Area Code Inquiries: 114
International City Code Inquiries: 116
Weather Forecast: 121
Zip Code Inquiries: 184
Questions and Answers About Huangshan Travel Tips
web
2012-07-11
Show Answer
We are planing to visit Huangshan in the week of September 24, what is weather will look like? I''m not sure if I should book the hotel on the mountain top in case it will rain. Not sure if go by ourself or by a tour group. Any suggestions?Thanks,
Hi Web, The Yellow Mountains is one of the most famous and beautiful mountains in China. The rainy season in the Yellow mountain is Spring and Summer. September is a Autumn month, when the climate is most comfortable and the scenery is stunningly beautiful. One night stay on the Mountain is suggested that time. For a comfortable Huangshan tour, a private tour is suggested. You can have your own English speaking guide and tour in a comfortable pace. I have tailored a tour itinerary and sent you to your email box. Please check it and if anything, just let me know. Regadds, Coco Coco Yang replied on 2012-07-11
Ih! I want to know if possible, if there are hostel or hotel ( not very expensive ) at the mountain top! Thanks a loT! guest replied on 2012-07-12
joanne
2012-03-05
Show Answer
Is it advisable to bring my son aged 4 years old to huangshan Around end of april 2012? Will there be any diffilculties in breathing Due to the altitude. Pls advise thanks
Dear Joanne, The average altitude of Yellow Mountains is 1800 meters. Normally people will get altitude sickness above 2500-3000 meters. In addition, it is suggested you could consult with your son's personal doctor whether he is OK with this altitude. As a travel advisor at China Highlights, I am glad to help you arrange trip to Huangshan if your son is OK with its altitude. Please feel free contact me if you need any tour arrange at nancy@chinahighlights.com. Nancy Nancy Deng replied on 2012-03-06
Marie
2012-01-04
Show Answer
What is the altitude of Huangshan City>
The average aititude of Huangshan (aka the Yeallow Mountains, not Huangshan City) is 1,600 meters. The altitude of Huangshan city must be much less high than the mountains. However, I cannot get the exact data. Lynn Ye replied on 2012-01-05
laurie
2011-05-30
Show Answer
my son is staying at the hostel in huangshan as is ill. any suggestions where he can get diagnosis/care?
Hi, Laurie, i am sorry that your son are will during the trip. Your son may need to go to a hospital to get better care. Below are a list of some hospitals in Huangshan: English is usually not spoken by doctors so you should take a guide or translator with you if you can not understand Chinese. Huangshan City People's Hospital Add: 4 Suli Street, Tunxi District, Huangshan City, Anhui Province Tel: 0559-2513765 Huangshan City Huangshan District People's Hospital Add: 19 Taiping West Road, Huangshan District, Huangshan City, Anhui Province Tel: 0559-8532572 The Second People's Hospital of Huangshan City: 0559-2512978 Add: 72 Daizhen Road, Tunxi District, Huangshan City, Anhui Province Tel: 0559-2512978 Ruru Zhou replied on 2011-05-30
Hi Laurie, If your son feels very bad and could not go to the hospital, he can also call 120 for an ambulance. If people in the hostel could help, that would be nice. The Huangshan City People' Hospital is the best one in the area, there are no hospitals in Huangshan providing English-speaking doctors. Candy Wei replied on 2011-05-31
thanks for your continued help guest replied on 2011-05-31
April Offer $25 Coupon
Send your inquiry before Apr. 30, 2014, and we will email you a $25 coupon.
The coupon is valid till Dec. 31, 2014, for paying tour packages worth $250 or up.
The coupon cannot be used for paying flight tickets, train tickets, hotel rooms and day trips.
Travel Advice or Question? Ask us here
You might like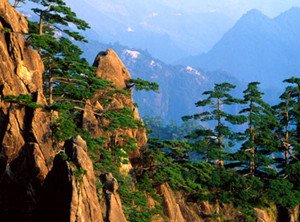 Photography Tips at the Yellow Mountains

China Highlights
Huangshan Travel Guide