Oddly-Shaped Pines of the Yellow Mountains
On Huangshan (Huang means yellow and shan means mountain(s)), there are oddly-shaped pines scattered about the peaks and ravines. They are one of the Four Wonders of the Yellow Mountains. The other three are: oddly-shaped rocks, hot springs and the Sea of Clouds.
Huangshan pines commonly grow on alpine peaks which are from 800 to 1,800 meters above sea level. The Huangshan pine (Pinus hwangshanensis) is a uniquely classified tree species in botany.
Huangshan pines are different from other pines. Most of them don't grow on the earth, but root on steep cliffs, alpine peaks and steep ravines. Because they take root in rocks and are sturdy, most living for well over 100 years, they are seen as a symbol of vigor and vitality. The crooked branches, sometimes twisting together as the tree searches for light amongst the shifting mountain shadows, are perceived as very beautiful and fantastic.
Welcoming Guest Pine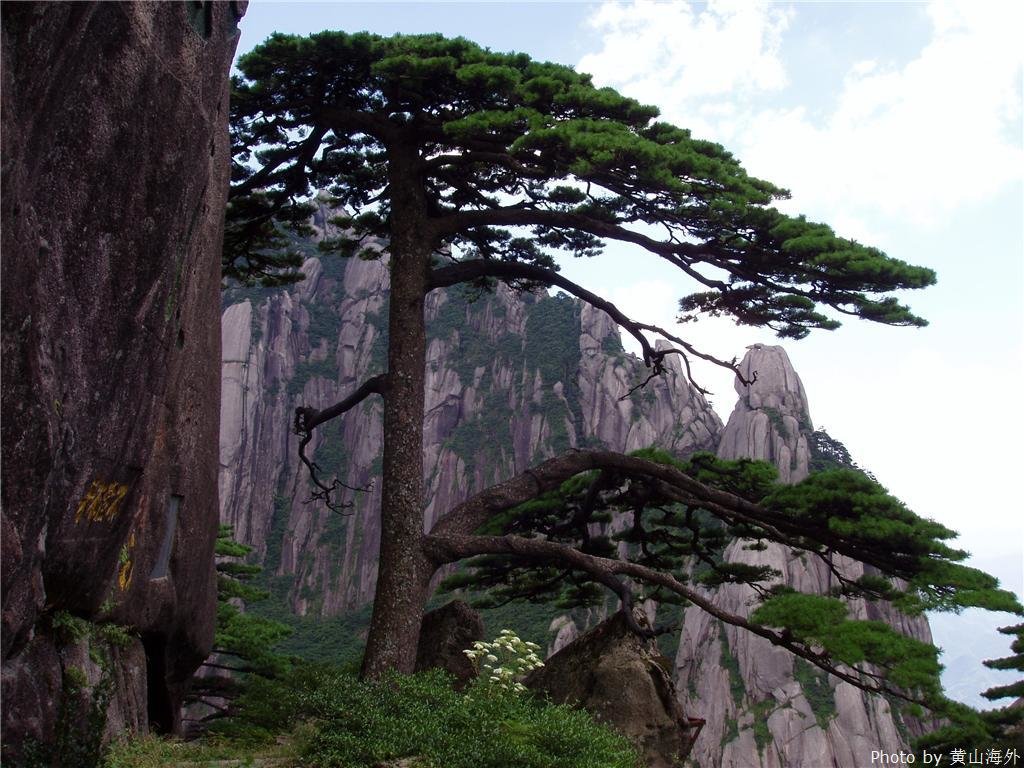 Welcoming Guest Pine looks like a host flings arms out to welcome guest.
Welcoming Guest Pine is located on the east side of Jade Screen Peak, by Wenshu Cave. It's about 10 meters (33 feet) high. The diameter of its trunk is 64cm (25 inches), and the diameter of its roots is 75 meters (246 feet). Half way up the trunk, two main lateral branchess, which are 7.6 meters (25 feet) long, stretch forwards. It looks like a hospitable host who flings his arms out to warmly welcome guests from China and abroad. This pine is the representative example of Huangshan's pines, and seems to act as an ambassador for the Yellow Mountains. Being the most photographed thing in Huangshan, its image appears as decoration in restaurants and homes all over China. It's a treasure of China. A huge iron relief of Welcoming Guest Pine is exhibited in Anhui Hall in Beijing's Great Hall of the People.
Seeing Out Guest Pine
This not so famous tree is also located beside the path up to Jade Screen Pavilion. The branches of this pine are low and one lateral branch stretches out, as if it were bowing out guests. So it's called Seeing Out Guest Pine.

Black Tiger Pine
This densely foliated pine is located on the path from North Sea Hotel to Beginning-to-Believe Peak. It's about 15 meters (49 feet) high and the diameter of its trunk is 65 cm (25 inches). The area of the crown is about 100 square meters (1100 sq ft). It's about 700 years old.
The story goes that a shaman walking to Lion Forest passed by here. Suddenly, he saw a black tiger hunched up on the top of the pine, but this black tiger disappeared in the twinkling of an eye and then he only saw a tall pine. So it's called Black Tiger Pine.
The trunk of this pine is very stout, holding a huge weight of branches, which could easily conceal several tigers. The crown is dark green, almost black. If you look at it from the right angle you may be able to see the shape of a tiger hunching up in the branches.
Double Dragon Pine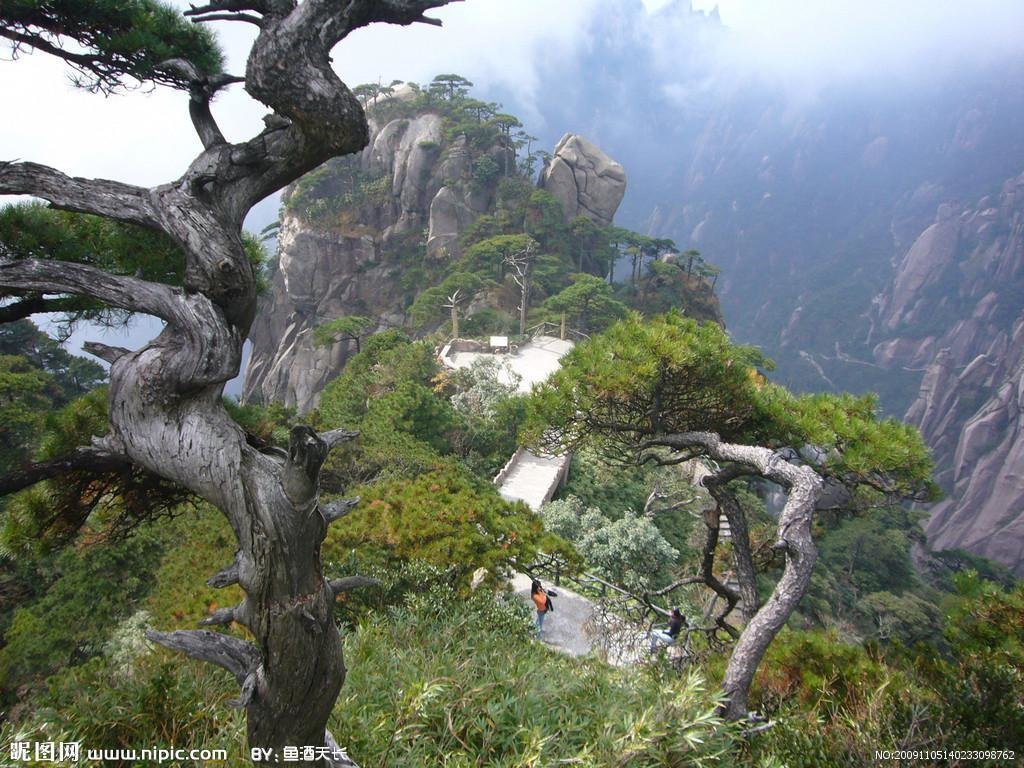 The trunks of double dragon pine look like two dragons.
This imaginatively named tree is opposite Echo Wall in the West Cloud Sea area. The pine has two main trunks. It grows out from a crack in the rock and twists on the steep cliff. In shape, it looks like two dragons which are playing in the cloud sea and pine forest. So it's called Double Dragon Pine. In 1977, it was struck by lightning and was severely damaged. But the trunk is still there, and travelers can still see its grand posture of the past.
Phoenix Pine
Once again named after a mythical Chinese beast, this tree is 200 meters to the east of Sea Heart Pavilion, which is just south of Bright Summit. The diameter of its tap root is 30 cm (1 ft). Its trunk is low and short. In the place where the trunk is 40 cm (16 inches) in girth, it divides into two branches. One extends upwards at an angle like a phoenix stretches its neck; the other is flattened extending horizontally like a phoenix displaying its fine tail feathers.
Leading Pine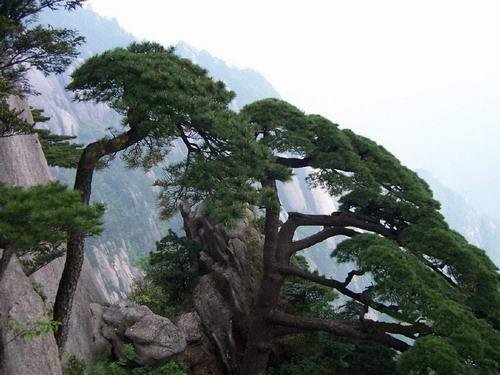 Leading Pine stretches its branches
Leading Pine is the third of the nine famous pines. It's located on Beginning-to-Believe Peak. Three sides of Beginning-to-Believe Peak face ravines and just one side can be climbed up with some equipment. This pine stretches its branches as if it is leading travelers through the ravines. So it's called Leading Pine. Now, a cable bridge has been erected providing access to Beginning-to-Believe Peak.

Couple Pine
This symbolic pine is on the way from Black Tiger Pine to Beginning-to-Believe Peak. The pine stands up straight from the ground. Two meters up, the pine divides into two branches. They join together and procede upwards to the top as one. They are nearly the same in width and height. It's said that one branch is Tang Xuanzong (an emperor of the Tang Dynasty (618-907)) and the other is Yang Guihui (one of Tang Xuanzong's concubines). Before their death, they promised to go to Huangshan together to be husband and wife in their afterlife. When Yang Guihui died, so the story goes, she stood by her promise. She went to Huangshan, as did Tang Xuanzong. He met with Yang Guihui and they became Couple Pine. The pine symbolizes eternal loyalty in love.
More Attractions of the Yellow MountainS
Questions and Answers About Oddly-Shaped Pines of the Yellow Mountains
April Offer $25 Coupon
Send your inquiry before Apr. 30, 2014, and we will email you a $25 coupon.
The coupon is valid till Dec. 31, 2014, for paying tour packages worth $250 or up.
The coupon cannot be used for paying flight tickets, train tickets, hotel rooms and day trips.
Travel Advice or Question? Ask us here
You might like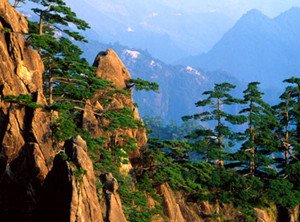 Photography Tips at the Yellow Mountains

China Highlights
Huangshan Travel Guide
Huangshan Top Attractions