International Flights to China
Cheap Airline Tickets to China
China Highlights provides a cheap international air ticket online booking service for global flights between China's cities, including Beijing, Shanghai, Guangzhou, Xi'an, Shenzhen, and Hong Kong, and international destinations in the USA, UK, Australia, India, Singapore, Malaysia, Philippines, etc. Be it direct flight or connecting flight, one-way or round trip, we can offer you great discounts with numerous options from China domestic airlines and top international airways. Low cost airfares guaranteed.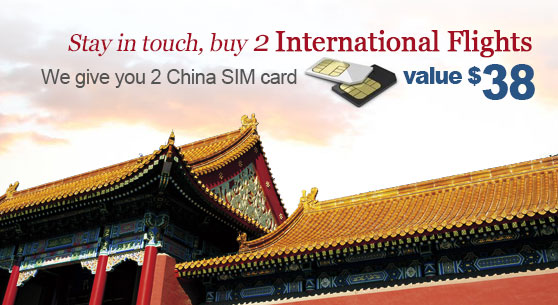 Book with China Highlights for 24/7 airport transportation with private car and the best in convenience, security, customer service.

Many airports in China ,such as Beijing Capital Airport, Shanghai Pudong Airport and Hong Kong Airport, provide international flights to and from most large airports in the world, including London Heathrow, New York John F Kennedy, Los Angeles, San Francisco, and Paris Charles de Gaulle.