Jiangxi Weather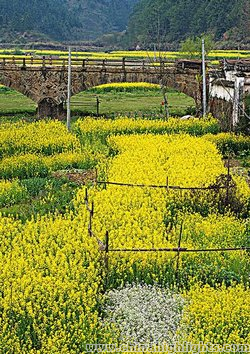 Spring Scenery of Wuyuan
Jiangxi Province is just north of the Tropic of Cancer. It is classed as a typical northern subtropical monsoon climatic region. The average temperature for a year is 18 °C (64 °F), in January the average temperature is 6 °C (44 °F), and that in July is 29 °C (84 °F). Generally speaking, Jiangxi Province has a rainy period starting from April; May and June are the months with the most rainfall; and the rain period is over in July. Then the whole province has a period of hot and sunny weather. In October, the temperature begins to drop, and a coat is needed from then on.
In spring, the weather is changeable; it is sometimes warm and sometimes cold. There is plenty of rain till midsummer. From midsummer to early autumn, it is sunny, hot and dry most of the time. In winter, the weather is raw with rare rain.
The capital city Nanchang has four distinct seasons, with very hot summer and cold winter. Therefore, spring and autumn are the best times to travel to Nanchang. It has abundant sunshine and the annual average temperature is 18 °C (64.4 °F), with the maximum temperature reaching 41 °C (106 °F) and extreme minimum temperature dropping to -15 °C (5 °F). More information about Nanchang weather
Mount Lu is foggy for most of the year, with around 192 days of fog on the mountain. The scenery of Mount Lu changes according to the seasons but is beautiful all year round. Summer is the best time to visit Mount Lu as the weather is very comfortable and the scenery at its best. In summer, temperature varies greatly between the mountain base and the mountain top. More information about the weather of Mount Lu
The average annual temperature of Jingdezhen is 18 °C (64.4 °F). The weather is very changeable in spring, and there is much rain at the end of spring. The climate is very similar to that of Nanchang, being 150 km (100 miles) east, with rare rain in autumn. Jingdezhen International Ceramic Festival is held in October every year, so autumn is the best season to visit Jingdezhen.
Weather Forecasts for Major Cities in Jiangxi

China Highlights
Planning a trip? Ask us here 800-2682918 (USA & CA)
86-773-2831999 (Int'l)
Q:
Olivia M.
Asked on 2012-12-04
Reply
I am planning to visit Jiangxi, late this month or early January, 2013. I wanto to know the status of the weather. My purpose of the visit is to do clothes shopins, as I have heard that Jiangxi is the best province, but I dont know which city I will get plenty and varieties, pls help. I am currently in Wuhan, Hubei.
Hi Olivia, from late Dec. to early Jan., the average temperature in Jiangxi is from 3-10°C. It is cold, please prepare warm clothes. Actually Jiangxi is not a good place for clothes shopping. I recommend Guangzhou to you. There are lots of wholesale markets in Guangzhou, as well as a large number of factories. http://www.chinahighlights.com/guangzhou/shopping.htm
Whitney Liao Replied on 2012-12-05