Jinan Map
A Ji'an's location map and a Google map are provided on our Jinan maps page.
Other City Maps
View Jinan details on Google map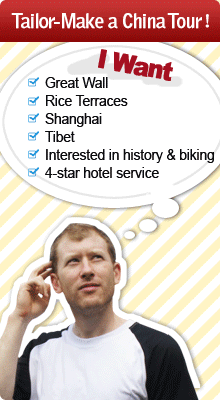 Questions and Answers About Jinan Map
Imran
2013-05-11
Show Answer
yah i want to trip china at shandog..
Hi Imran, when would you plan to take the tour? How many people will be traveling with you, please? What attractions/places you would like to visit? What class of hotel do you prefer, please?
Whitney Liao replied on 2013-05-13
Pat
2012-12-30
Show Answer
My Chinese friend wants me to go with her to her home in Jinan in July. Hot then?? My son and his family live in Hong Kong so hw can I combine a visit for two weeks to both without it behind far too expensive!
Dear Sir or Madam, In July, the average temeprature will be 24-32℃(75.2-89.6℉), it is hot season, sometimes it will rain. Please take sunscreen cream, sunglasses, mosquito-repellent, and so on. Based on your plan, I suggest you visit mainland China at first, then go to Hong Kong by air from Jinan directly, then go home from Hong Kong. Do you need us to arrange a tour for you in mainland China? We can design a tailor made tour for you. You could let us know the details, such as the number of people, travel date, destination, the star of hotels, our travel advisor will construct an itinerary for you. You could send an e-mail to service@chinahighlights.com Here are some Jinan tour for reference. Please click: http://www.chinahighlights.com/jinan/tours.htm Lussie Lu replied on 2012-12-30
Sarah Johnston
2012-02-01
Show Answer
Hi, I'm trying to find an English version of the Jinan city map, do you have any advice where I can find one. I currently live in Jinan and have had no luck finding one as yet. Many thanks.
Hi Sarah, Thank you for your inquiry! Perhaps you can try buy the English version of Jinan map online, such as Taobao.com, or Eachnet.com. You can ask your Chinese colleague or friends to help you. And there are some foreign book shops in Jinan, perhaps you can have a try there. Here I found a quite simple one, but it is the best one I can find online: http://www.china-holiday.com/english/images/China_Map_Guide/jinan.jpg Or you can visit the English version of Google map at: http://maps.google.com.hk/maps?q=Jinan,+Shandong,+China&hl=en&sll=22.38131,114.168639&sspn=1.009505,1.234589&brcurrent=3,0x0:0x0,0&hnear=Jinan,+Shandong,+China&t=m&z=11 Hope it helps. Wish you a nice day! ;-) Robert Hui replied on 2012-02-02
ISAM
2011-02-17
Show Answer
I am Isam From Sudan I want to come to Jina how can i Go there?
Hi, Thanks for visiting our website. I think you need to fly to Beijing first, then connect a domestic flight to Jinan from Beijing. Have a nice day. Kevin Ma Kevin Ma replied on 2011-02-17
April Offer $25 Coupon
Send your inquiry before Apr. 30, 2014, and we will email you a $25 coupon.
The coupon is valid till Dec. 31, 2014, for paying tour packages worth $250 or up.
The coupon cannot be used for paying flight tickets, train tickets, hotel rooms and day trips.
Travel Advice or Question? Ask us here
Jinan Travel Guide
Jinan Facts
Chinese Name: 济南
Chinese Pinyin: jǐ nán
Location:East of China
Latitude: 36° 40' N
Longitude: 111° 00' E
Elevation:56 M (171 FT)
Time Zone: (UTC+8)
Area Code: 0531
Population: 6.6 million