Yunnan Ethnic Village
This theme park displays the colorful folklore and architecture of 25 ethnic groups residing in Yunnan Province. The theme park offers shows and performances, folklore and wax museums, as well as replica buildings found in the villages of each ethnic group.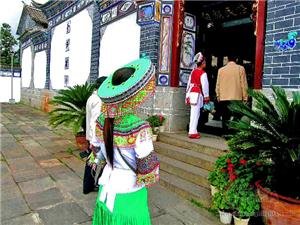 Yunnan Ethnic Village
The Yunnan Nationalities Village is located at a narrow peninsula at the north shore of Dian Lake. Villages of over 25 minorities including the Yi, Dai, Miao, Jingpo, Wa, Hani, Naxi, Dulong and others have been built here. Through various displays and re-creations of the original villages, the Yunnan Ethnic Village displays the diverse local ethnic culture. Villages of different styles are well arranged and show visitors their unique charm. Displaying a variety of buildings, lifestyles, and religious beliefs in the region, the village is a microcosm of Yunnan's colorful and diverse ethnic culture.
Visitors can enjoy not only a variety of architectural arts, clothing, and remarkable customs, but also live presentations of cultural songs and dance. Trying the fantastic food and purchasing some lovely souvenirs to bring home also provide a memorable experience. Traditional festivals of the ethnic groups are held here including, but not limited to, the Sanyuejie Festival of the Bai people, the Splashing Water festival of the Dai, the Torch Festival of the Yi, and the Three Flowers festival of the Naxi people.
Latest Tips on Yunnan Ethnic Village
The ethnic singing, dancing, and folk performances are held from 9:00 to 17:00, mainly in the Dancing Hall and Tuanjie Square. The Asian Elephants performances are especially recommended.
Questions and Answers About Yunnan Ethnic Village
April Offer $25 Coupon
Send your inquiry before Apr. 30, 2014, and we will email you a $25 coupon.
The coupon is valid till Dec. 31, 2014, for paying tour packages worth $250 or up.
The coupon cannot be used for paying flight tickets, train tickets, hotel rooms and day trips.
Travel Advice or Question? Ask us here

China Highlights
Kunming Travel Guide