Kunming Food
The treatment below is not meant to be exhaustive – or even thorough – but rather, is intended to be a brief summary of the dishes that are common to the city (and in some cases, to the province – and in one case, to the entire country), as well as a partial listing, or representative selection, of the city's many restaurants.
The Dishes
The food dishes common to Kunming, thanks to their distinctiveness and their variety, never fail to please the visitor. In Kunming, visitors will find a wide array of these delicious dishes, not only in the more established restaurants, but also in street stalls scattered throughout the city, albeit, generally served as more abbreviated versions, i.e., as snack dishes. Some of the most famous Kunming dishes include the following:
Over The Bridge Rice Noodles
Over The Bridge Rice Noodles is a typical local dish in Yunnan that can only be found in certain parts of the province. The dish is prepared in three stages:
The meat pieces, which might be pork, chicken, fish (typically the local specialty, carp) and seafood (typically squid, from the sea), are placed in a large pot, to which is added a sufficient quantity of chicken broth and some heavy oil. The meat pieces might include cooked (eventually leftovers) or raw meats, or a mix of the two, just as one typically mixes as many of the kinds of meat cuts as one has available (this dish is a great way to make use of leftovers, which surely also helps to explain its popularity). After the meat has cooked until tender, vegetables are added and the dish is allowed to simmer a few minutes longer, then rice noodles are added and the dish is allowed to simmer a little longer, or just until the noodles are cooked al dente. Bon appetite!
Steam Pot Chicken
Steam Pot Chicken is a dish made in a unique type of double boiler, but a double boiler with a twist: via an integral (to the top pot) center tube that reaches the approximate height of the top pot (if you visualize the image of the typical ring cake form such as the so-called bundt pan in the US, then you are on the right track), this unique double boiler permits steam to enter the top pot, in which the chicken and/or other meat is placed. The top pot is then covered and the ingredients inside are steam cooked, thus preserving both the flavors as well as the nutrients of this hearty meat dish.
The steam pot double boiler was developed at the court of Emperor Qianlong, the sixth emperor of the Qing (CE 1644-1911) Dynasty, who reigned from 1735-1796, where it was used not only to steam cook chicken, but wild fowl as well, such as duck and pheasant. The steam pot double boiler thankfully somehow slipped past the walls of the Forbidden City and was embraced by the common people. In the hands of the latter, the steam pot double boiler was used to cook all kinds of meats – or combinations thereof – while chicken, which steam cooks easily, became the most popular.
Steam Pot Chicken is made with any number of flavorful spices – ginger being one of the more popular flavors – thus introducing greater variation to the dish, which is one of the most tender and most flavorful dishes throughout China. It takes about 3-4 hours to steam cook chicken in the steam pot double boiler, depending on the quantity used and the size of the pot.
Er Kuai (Rice Cake)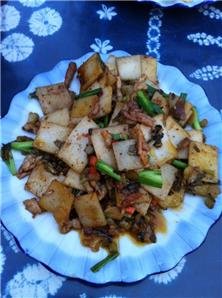 Er Kuai, a popular native dish in Yunnan
Er Kuai is made of high quality rice that is cooked, then pressed into a special form. When cooled, the resulting "cake" of cooked rice retains the shape of the form into which it has been pressed. But this is only the first step in preparing "rice cake". Thereafter the rice "cake" is either boiled, roasted, or quick-fried in oil. Er Kuai is a very popular native Yunnan dish, where it forms an indispensable part of every feast during the Lunar New Year celebrations. A favorite Er Kuai preparation method is to gently roast the cake over a charcoal fire. Roasted Er Kuai is served with marmalade, jam, or fruit compot. Served in this manner, roasted Er Kuai is as common to the Yunnan breakfast table as is the croissant served with marmalade to the continental European breakfast table
Smoked Smelly Bean Curd
Smoked Smelly Bean Curd (smoked tofu) is one of the most popular evening and late-night snacks throughout Kunming's snack stalls, which are found in every marketplace and in every side street of the city. There are also snack markets spread about the city consisting solely of numerous snack stalls that operate specifically to serve night crowds, from taxi drivers to policemen to tourists to workers – including office workers – returning home late and who opt for a quick meal at the snack market as an alternative to making supper at home. One of the most popular snacks at such eateries is the Smoked Smelly Bean Curd, which isn't nearly as bad as the name suggests (as the name suggests, it is simply tofu that has been smoked over a charcoal fire) – in fact, it is quite tasty!
Eight Treasures Of Yunnan
Eight Treasures of Yunnan is another Yunnan specialty "cake" that is to a traditional cake as the meat pie is to a dessert pie, i.e., it is a cake in name only. Eight Treasures of Yunnan is in fact a snack, but a very filling one, which explains its position as the number 1 snack in Yunnan Province. Eight Treasures of Yunnan is namely an 8-part ensemble "cake" consisting of the following:
One small stuffed-ham crescent-shaped bread roll
One small crispy roll stuffed with pureed meat
One small crispy roll stuffed with roasted sesame seed
One small crispy roll stuffed with roasted peanuts
One small crispy roll stuffed with sautéed mushrooms
One small crispy roll stuffed with pickled rutabaga
One small hard-crusted sweet cake
The Restaurants
Qiao Xiangyuan Restaurant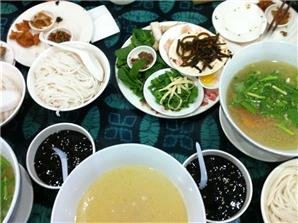 Over The Bridge Rice Noodles in Qiao Xiangyuan Restaurant
Qiao Xiangyuan is a large, upmarket restaurant chain with outlets conveniently located all over the city as well as in the surrounding suburbs and villages. The Qiao Xiangyuan restaurant chain specializes in serving local Kunming/ Yunnan dishes, and is renowned for its friendly and attentive service as well as its pleasant dining atmosphere. The restaurant chain has slowly built up a solid reputation among Kunming's gourmet diners as well as among tourists. Two of its popular dishes are Over the Bridge Rice Noodles and Steam Pot Chicken. In addition, local artists regularly perform in the restaurant's main banquet hall, which adds an extra cultural dimension to the dining experience at a Qiao Xiangyuan restaurant.
Jinbichun Restaurant
Jinbichun Restaurant is a very old hotel restaurant with a venerable history stretching back more than a hundred years. Jinbichun Restaurant serves authentic Yunnan dishes in an atmosphere that is quintessentially Chinese. The hotel building is in the form of a Shiheyuan-courtyard (the Shiheyuan-courtyard originated in Beijing, but is found elsewhere in China), with a gray, brick outer wall inside which is a large, cobblestone courtyard. If you are looking for a traditional Chinese dining experience, this is where you will find it.
Address: No. 5 Dahuajiao Alley, Dongshi Street, Kunming
Opening Hours: Daily, from 8:30 AM to 11:30 PM
World Expo Jixing Yuan Restaurant
World Expo Jixing Yuan Restaurant is a large and luxuriously-appointed restaurant that serves local Yunnan cuisine in a more contemporary, informal atmosphere. The food is excellent, the service professional and courteous, and the atmosphere is relaxed. As with many other restaurants in Kunming, local musicians regularly perform in the main dining hall of World Expo Jixing Yuan Restaurant.
Address: No. 431 Bailong Road, Kunming
Opening Hours: Daily, from 8:30 AM to 11:30 PM
Questions and Answers About Kunming Food
Grace
2013-10-07
Show Answer
I will at Kunming, China the last week of this month, need to know how I should pack as far as clothing ang shoe, thanks.
Hi, October is a little cool and it rains less. The maximum temperature is 20 °C (68 °F) and the minimum temperature is 12 °C (54 °F). Besides wearing T-shirt and long trousers, bring a cardigan or coat for the early mornings and evenings. Comfortable shoes are suggested for tour. Regards, guest replied on 2013-10-07
Grace
2013-10-07
Show Answer
Should I bring short pant and tennis shoe ? I will bt there Last week of Oct (in Kunming China)
Hi, It is a little cool at the end of October, so long trousers is suggested. Tennis shoes will be good for tour. Regards, guest replied on 2013-10-07
April Offer $25 Coupon
Send your inquiry before Apr. 30, 2014, and we will email you a $25 coupon.
The coupon is valid till Dec. 31, 2014, for paying tour packages worth $250 or up.
The coupon cannot be used for paying flight tickets, train tickets, hotel rooms and day trips.
Travel Advice or Question? Ask us here

China Highlights
Kunming Travel Guide