Kunming Maps
The maps below show Kunming's location, Kunming city center, including attractions and transport, and the nearby cities and regions.
Other City Maps
View Kunming details on Google map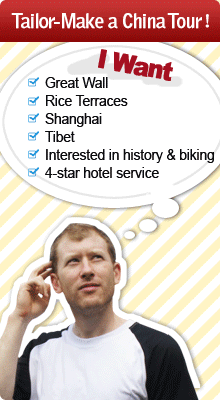 Questions and Answers About Kunming Maps
parteii
2012-12-14
Show Answer
hii want to visit kunming traveling from burma. is it possible to travel overland.what is the best route and how manys but train or by bus?
Dear Sir or Madam, As far as I know, there is no train or bus from Burma to Kunming. I suggest you take a flight directly. You could check the price and flight on this website. Please click: http://www.flychina.com/ Lussie Lu replied on 2012-12-17
T.H. Mithu
2012-12-03
Show Answer
I want to visit kunming city on April''13 and to Beijing by train from bangladesh. Pls tell me suggestion.
Hi T.H., it is not suggested that going to Beijing from Kunming by train. It will take 38-47hrs for one way. You can check the air tickets via here: http://www.chinahighlights.com/china-flights/
Whitney Liao replied on 2012-12-04
mavis
2012-11-24
Show Answer
what is the interesting place to visit inside Kunming town ?
Hi mavis,
Kunming is famous for natural scenery, pleasant weather, four-season flowers and ethnic customs. Famous attractions include Stone Forest, Dragon Gate, West Hill, and flower markets. The city has convenient transportation to popular tourist cities within the province, like Dali, Lijiang and Shangri-La. We have some tours about Kunming, you could click below link to see the details http://www.chinahighlights.com/kunming/tours.htm If you need any tour, please feel free to contact me at christyluo@chinahighlights,com
Christy Luo replied on 2012-11-25
esther fung
2012-10-26
Show Answer
I plan to go kumning for 4 days 3 nights on this coming Dec 19. We are small family 4 person. What is the price per person if we want to visit Dali, shangarila and other nice place at kumning only in this 4 days? Thanks
Hi Esther, it is very exhausted trip if you complete the tour includes Kunming, Dali and Shangari-la in only 4 days. In our regular tour, we arrange 6-8 days for our clients to have this kind of trip. Please contact me by lilylee@chinahighlights.net if you need me to arrange the itinerary for you. Thank you! Lily Lee replied on 2012-10-27
susie
2012-10-24
Show Answer
hi ..i would like to visit to Kunming on Jan or April , can u pls email me the detail info
Hi Susie, April would be a better time. We can arrange this tour for you.
In order to give you an accurate quotation please answer a few questions so that we can construct an itinerary that gives you what you want at the best possible price.
1. Number of people in your group including yourself
2. Length of stay in China
3. City or cities of entry/exit
4. Start date of Tour
5. Places or attraction that you want to visit
6. Class of Hotel: 3/4/5 star
7. Estimative total budget per person.
After getting further information from you, we will send you a tentative itinerary.
Whitney Liao replied on 2012-10-24
April Offer $25 Coupon
Send your inquiry before Apr. 30, 2014, and we will email you a $25 coupon.
The coupon is valid till Dec. 31, 2014, for paying tour packages worth $250 or up.
The coupon cannot be used for paying flight tickets, train tickets, hotel rooms and day trips.
Travel Advice or Question? Ask us here
Kunming Travel Guide
Kunming Facts
Chinese Name: 昆明
Chinese Pinyin: kūn míng
Location:Southwest of China
Latitude:25° N
Longitude: 104° 41' E
Elevation: 1895 M (6217 FT)
Area Code: 0871
Population:6.25 million
Time Zon: (UTC+8)