Kunming City Center Map
This Kunming city center map shows the transportation features of Kunming, including the roads as well as the bus and railway lines and stations. Some attractions are also labeled and indicated with icons.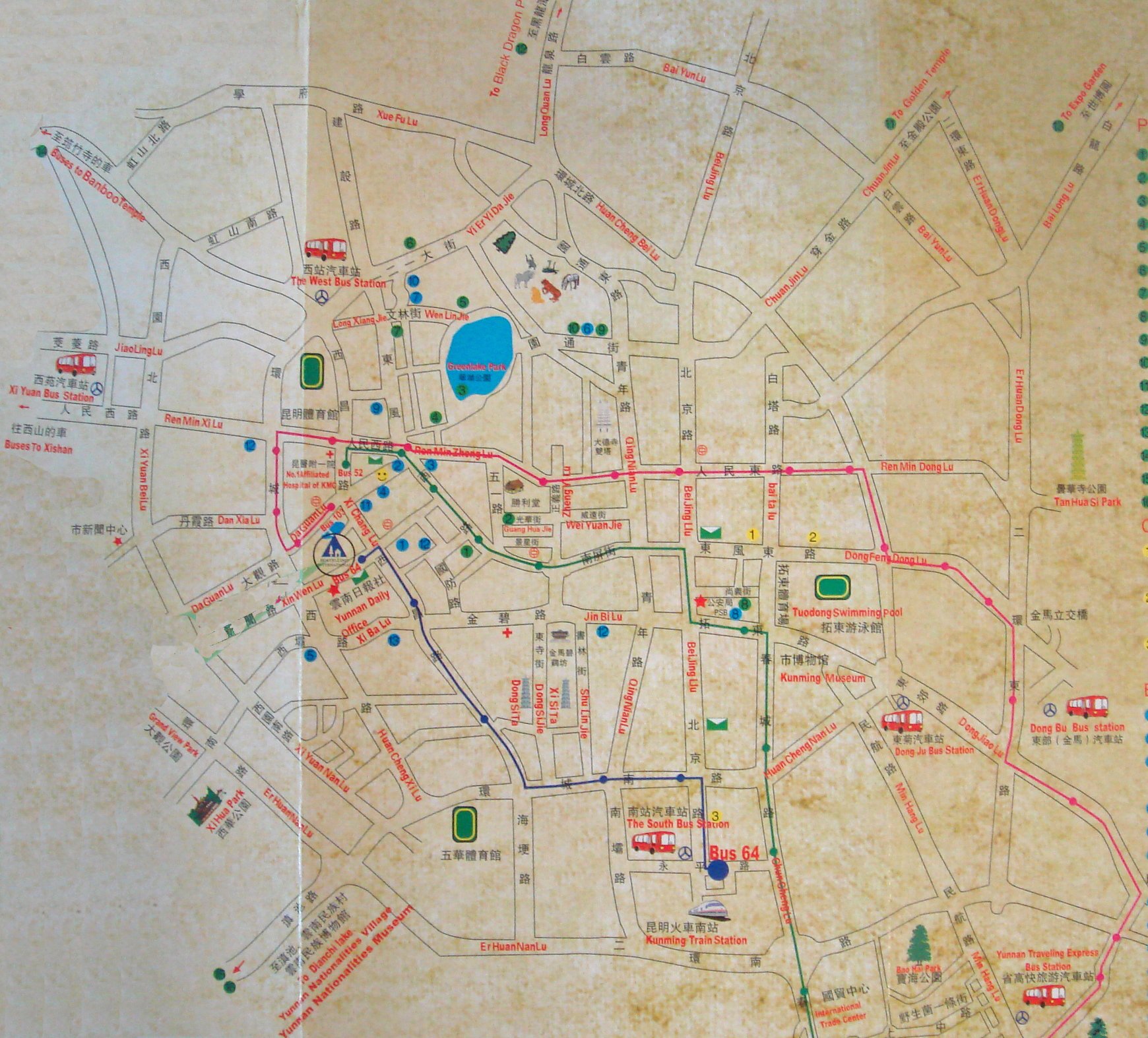 Questions and Answers About Kunming City Center Map
edwinliu
2012-11-22
Show Answer
hi,do I have to apply the laos and thailand visa for an overland trip through the kunming bangkokexpressway? and the name of travel agent in bangkok that travel that way
Hi Edwinliu, which country are you from, please? 42 countries are exempted from applying for a visa to travel to Thailand for up to 30 days http://www.chinahighlights.com/travelguide/visa-application/special-region.htm But I don't know what the policy is in Laos. Sorry, we don't know the name of travel agent in Bangkok that travel that way.
Whitney Liao replied on 2012-11-23
Christine
2012-07-30
Show Answer
Hi, I would like to spend my 13 days on November to Kunming, Dali, Lijiang, Shangri La, Lugu Lake and Songzanlin Temple. Is it easy to travel by train or by express bus to all these places? May i know where to get the train and express bus for every town?
Hi Christine,
From Kunming to Dali, you can take plane at Kunming Changshui International Airport or take train at Kunming Railway Station or Coach at Kunming Coach Station.
From Dali to Lijiang / Lijiang to Shangri La/ Shangri La to Lugu Lake and Songzanlin Temple, you can take bus from the local bus station. It is easy and convenient.
We also have tour package for these placeS, with private car and English speaking tour guide. http://www.chinahighlights.com/tour/kunmingtour/km-3/
If you are interested in it, or need hotel/air ticket booking, please feel free to contact me via whitney@chinahighlights.net
Regards, Whitney
Whitney Liao replied on 2012-07-31

China Highlights
Kunming Travel Guide