Kunming Transportation
To get the most out of a visit to Yunnan Province, travelers would do well to familiarize themselves with the provincial, inter-provincial and internationally-linked transportation network, including travel options by air, by rail, and by road. In the following are listed the main air, rail, and highway routes within the province – and beyond.
Air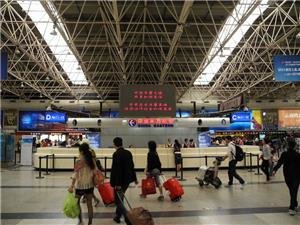 Take a plane to Kunming.
As the transportation hub of Yunnan Province, Wujiaba International Airport (KMG) near the provincial capital of Kunming currently operates 48 Chinese domestic routes – including a number of strictly provincial routes – and 6 international routes. There are domestic flights to most of China's major cities, offering connections to some of China's most popular tourist destinations in cities such as Beijing, Xi'an, Guilin and Shanghai. Provincial routes originating from KMG include flights to the scenic sites of cities such as Baoshan, Dali, Lijiang, Mangshi, Simao, Xishuangbanna, Zhaotong and Zhongdian. International routes include flights between KMG and Bangkok, Hong Kong, Kuala Lumpur, Rangoon and Singapore. In addition to the air routes originating from KMG, there are 11 provincial and 2 international routes that originate from Jinghong Airport (JHG), near Xishuangbanna.
Railway
china-trains/book-ticket-offices-kunming.htm Yunnan Province is naturally linked to other parts of China via a network of railways – and indeed, also linked by rail to China's immediate neighbors: Myanmar, Laos and Vietnam. With the capital, Kunming, serving as the province's railway hub, a number of railway lines radiate out in all directions. These include: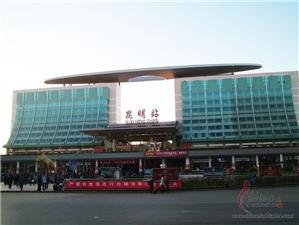 Take a train to Kunming.
Northward – The Chengkun Line from Kunming to Chengdu in Sichuan Province, a stretch of 1100 km (688 mi), of which 280 km (175 mi) lies within Yunnan Province.
Eastward – There are two lines, one running to the northeast, the other running to the southeast: The Guikun Line runs from Kunming to Guiyang in Guizhou Province, a stretch of 640 km (400 mi), of which 340 km (213 mi) lies within Yunnan Province; the Nankun Line runs from Kunming to Nanning in Guangxi Province, a stretch of 900 km (563 mi), of which 243 km (152 mi) lies within Yunnan Province.
Southward – There is a provincial railway line between Kunming and Yuxi, about 95 km (59 mi). The most logical extension of this railway would take it to Pu'er and on to Xishuangbanna, though no concrete plans for this extension exist at present.
Westward – There is a provincial railway line between Kunming and Dali, about 315 km (197 mi), with plans to extend this railway line northward from Dali to Lijiang and Shangri La, and possibly eventually into Tibet.
City Transportation
Over one hundred bus lines crisscross the city proper, reaching every corner. The price is quite cheap usually 1 yuan for a non air-conditioning one and 2 yuan for a air-conditioning bus.
Taxi: The starting price is 7 yuan for the first three kilometer and 1.6yuan will be added for per extra 1 kilometer. After 10:00 pm price is a bit higher 9.6 yuan for the first 3 kilometers and 2.7 yuan will be added to per extra kilometer.
Bicycle: Hotels around the Kunming Railway Station provide bicycle rental service. the price is busually 2 yuan/per hour and 10 yuan/per day.
Bus/Coach
Yunnan has built a comprehensive highway system with roads reach almost all the major cities or towns in the region. Bus travel across the region now is very convenient and easy. Travelers can take a bus here heading to the neighboring tourist destinations such as Dali, Lijiang.
There are four major long distance bus stations in Kunming with the South Bus Station and Railway Square Bus Station the most useful and important.
South Bus Station: Facing the Kunming Railway Station in Beijing Xi Lu, this station is the most useful one of the four to travelers and has bus routes to most of the regional destinations. Buses depart here generally fall into two types: Regular and Faster, Luxurious. A regular bus runs slower and usually the bus condition is not so good as the faster one. The bus station itself is well managed.
Railway Square Bus Station: This bus station is less organized and majority of buses depart here is under private management. No fixed schedule is available and bus will leave when it is full. Most of the buses here are normal coaches and are a bit cheaper than the Faster and Luxurious buses. This bus station mainly caters for the domestic tourists who are familiar with the standard conditions. Foreign travelers, however, are recommended to avoid it.
Questions and Answers About Kunming Transportation
Moo
2014-03-31
Show Answer
What''s the best way to travel from Kunming to Zhengzhou? Or is it better to travel from Kunming to Shanghai then Shanghai to Zhengzhou?
Dear Moo, There are some direct flights from Kunming to Zhengzhou. You could book it on our website directly. Please click: http://www.chinahighlights.com/china-flights/flight-list.asp?QueryID=4742337&fcook=2014040115112138&star=KMG&dest=CGO&rDate=2014-4-23 Lussie Lu replied on 2014-04-01
khin Mg Yi
2014-03-22
Show Answer
I want to Myanmar to China speaking Guild at Kunming airport for to transit to Qingdao ...
I am sorry that we don't have Myanmar speaking guide
Lily Guo replied on 2014-03-23
khin Mg Yi
2014-03-22
Show Answer
At Kunming airport we need to get one interpreter Myanmar To China language for Myanmar traveler to help and transit to Qingdao .....
I am sorry that we don't have guide who can speak Myanmar language . Lily Guo replied on 2014-03-23
john
2014-02-09
Show Answer
where can I find an online website with all the kunming bus lines and listing all of their stops?
Hi John, sorry, no such a website in English. Whitney Liao replied on 2014-02-10
Wai Ling
2014-01-04
Show Answer
We plan to travel from Kunming to Lincang by coach on 31/3/14, return on 5/4/14, please furnish coach schedule and fare. Also, looking for budget hotel in Kunming for 3 persons.
Hi Wai Ling, there are 14 buses from between Kunming and Lincang every day from 8:30 to 22:00, one every hour. The price is about USD35/person. You can purchase the tickets from Kunming bus station. For budget hotel in Kunming, i would like to recommend King World Hotel, it is about USD120 per night for three persons. You may also check our website at http://www.chinahighlights.com/hotel/ for more hotel options. Please let me know if you want me to book the hotel for you. Simon Huang replied on 2014-01-04
April Offer $25 Coupon
Send your inquiry before Apr. 30, 2014, and we will email you a $25 coupon.
The coupon is valid till Dec. 31, 2014, for paying tour packages worth $250 or up.
The coupon cannot be used for paying flight tickets, train tickets, hotel rooms and day trips.
Travel Advice or Question? Ask us here

China Highlights
Kunming Travel Guide