Kunming Transportation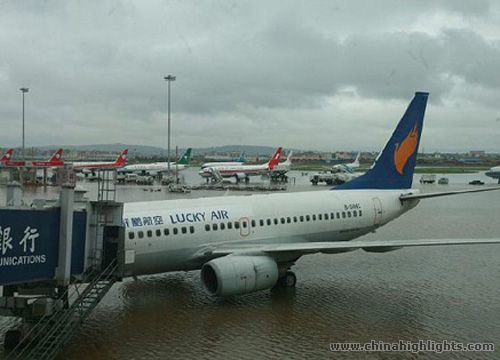 To get the most out of a visit to Yunnan Province, travelers would do well to familiarize themselves with the provincial, inter-provincial and internationally-linked transportation network, including travel options by air, by rail, and by road. In the following are listed the main air, rail, and highway routes within the province – and beyond.
Air
As the transportation hub of Yunnan Province, Wujiaba International Airport (KMG) near the provincial capital of Kunming currently operates 48 Chinese domestic routes – including a number of strictly provincial routes – and 6 international routes. There are domestic flights to most of China's major cities, offering connections to some of China's most popular tourist destinations in cities such as Beijing, Xi'an, Guilin and Shanghai. Provincial routes originating from KMG include flights to the scenic sites of cities such as Baoshan, Dali, Lijiang, Mangshi, Simao, Xishuangbanna, Zhaotong and Zhongdian. International routes include flights between KMG and Bangkok, Hong Kong, Kuala Lumpur, Rangoon and Singapore. In addition to the air routes originating from KMG, there are 11 provincial and 2 international routes that originate from Jinghong Airport (JHG), near Xishuangbanna.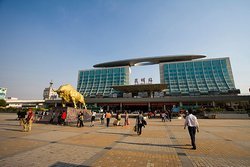 Kunming Railway Station
Railway
china-trains/book-ticket-offices-kunming.htm Yunnan Province is naturally linked to other parts of China via a network of railways – and indeed, also linked by rail to China's immediate neighbors: Myanmar, Laos and Vietnam. With the capital, Kunming, serving as the province's railway hub, a number of railway lines radiate out in all directions. These include:
Northward – The Chengkun Line from Kunming to Chengdu in Sichuan Province, a stretch of 1100 km (688 mi), of which 280 km (175 mi) lies within Yunnan Province.
Eastward – There are two lines, one running to the northeast, the other running to the southeast: The Guikun Line runs from Kunming to Guiyang in Guizhou Province, a stretch of 640 km (400 mi), of which 340 km (213 mi) lies within Yunnan Province; the Nankun Line runs from Kunming to Nanning in Guangxi Province, a stretch of 900 km (563 mi), of which 243 km (152 mi) lies within Yunnan Province.
Southward – There is a provincial railway line between Kunming and Yuxi, about 95 km (59 mi). The most logical extension of this railway would take it to Pu'er and on to Xishuangbanna, though no concrete plans for this extension exist at present.
Westward – There is a provincial railway line between Kunming and Dali, about 315 km (197 mi), with plans to extend this railway line northward from Dali to Lijiang and Shangri La, and possibly eventually into Tibet.
City Transportation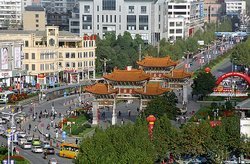 Kunming City Transportation
Over one hundred bus lines crisscross the city proper, reaching every corner. The price is quite cheap usually 1 yuan for a non air-conditioning one and 2 yuan for a air-conditioning bus.
Taxi: The starting price is 7 yuan for the first three kilometer and 1.6yuan will be added for per extra 1 kilometer. After 10:00 pm price is a bit higher 9.6 yuan for the first 3 kilometers and 2.7 yuan will be added to per extra kilometer.
Bicycle: Hotels around the Kunming Railway Station provide bicycle rental service. the price is busually 2 yuan/per hour and 10 yuan/per day.
Bus/Coach
Yunnan has built a comprehensive highway system with roads reach almost all the major cities or towns in the region. Bus travel across the region now is very convenient and easy. Travelers can take a bus here heading to the neighboring tourist destinations such as Dali, Lijiang.
There are four major long distance bus stations in Kunming with the South Bus Station and Railway Square Bus Station the most useful and important.
South Bus Station: Facing the Kunming Railway Station in Beijing Xi Lu, this station is the most useful one of the four to travelers and has bus routes to most of the regional destinations. Buses depart here generally fall into two types: Regular and Faster, Luxurious. A regular bus runs slower and usually the bus condition is not so good as the faster one. The bus station itself is well managed.
Railway Square Bus Station: This bus station is less organized and majority of buses depart here is under private management. No fixed schedule is available and bus will leave when it is full. Most of the buses here are normal coaches and are a bit cheaper than the Faster and Luxurious buses. This bus station mainly caters for the domestic tourists who are familiar with the standard conditions. Foreign travelers, however, are recommended to avoid it.

China Highlights
Planning a trip? Ask us here 800-2682918 (USA & CA)
86-773-2831999 (Int'l)
Q:
janine grose
Asked on 2013-05-19
Reply
is there a long distance bus which travels from Zhongdian to Kumnming?janin
Q:
Jiraphol Wichetchart
Asked on 2013-05-13
Reply
Hi Whitney, We will go to Kunming on 15 May 2013 and stay at The Hump Hostel,Jinbi square.I would like to know how much the Taxi fare from airport to the Hostel? Thank you so much,Jiraphol
Hi Jiraphol, it is about CNY60-70.
Whitney Liao Replied on 2013-05-14
Q:
JudyLee
Asked on 2013-03-17
Reply
Hi Whitney, I will go to Kunming on 20 Mar 2013 and stay at Yunshangsiji Fairyland Hotel Kunming Kundu Branch. I want yo know how much the Taxi fare from airport to the Hotel and kindly advise if I take bus what is the bus No should I take.Thank you & regards,Judy
Hi Judy, taking a taxi costs about CNY60-80, takes about 50mins. You can also take Metro Line 6, get off at Dongbu Bus Station东部汽车站, then change Bus T1 and get off at Juhua Village Station菊花村站. After that, change Bus No. 98, get off at National Defense Rd. Station国防路站. Then walk to your hotel which is 330m away.
Whitney Liao Replied on 2013-03-19
Q:
juliana thay
Asked on 2013-03-16
Reply
Hi, i''m going to Kunming frmo 20-24th. I''m planning to include a trip to Yuanyang. Can you advise if 2 days/1 night in YuanYang is too short? Can you send me an itenerary for what we can cover in 4 days in Kunming? Thanks.
Hi Juliana, it is okay to spend 2 days/1 night in Yuanyang. If your time is not constraint, you and extend one more night there. We are glad to help arrange your Kunming-Yuanyang tour. Please kindly advise:
1. Number of people? Any children or elderly people? How old if any?
2. Starting date?
3. class of hotel?
4. Estimated total budget per person?
Whitney Liao Replied on 2013-03-17
Q:
ooi ah hock
Asked on 2013-02-05
Reply
I and my friend will be flying to Kunming from Singapore on 19-03-2013 to 27-03-2013.Arriving on 19 morning 0700. We would like to join a tour from Kunming to Dali to Lijiang if possible Shangrila. Can any one advice me for the trip.
There is no group tour in Yunnan province operates by our company at present, but we are pleased to provide private tour service for you and your friend if you like.
In a private tour, you have the flexibility of choosing the starting and ending date, accommodations and transportation type, scenic spots you want to visit and stay longer as you prefer, have meals in local restaurant and enjoy private tour guide and driver service no force shopping policy and money back guarantee.
Here is an itinerary that includes Kunming, Dali, Lijiang and Shangri-la for your reference, please feel free to let me know if we could help you more. http://www.chinahighlights.com/tour/kunmingtour/km-3/
Wish you a nice trip in China!
Delia Xie Replied on 2013-02-06
Kunming Travel Guide