Lhasa Weather in May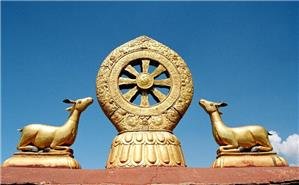 Jokhang Temple with clear and blue sky in summer.
The weather in May is much warmer in Lhasa, with the average temperature of 12.2 °C (53.9 °F). The minimum temperature is 5 °C (41 °F) and the maximum temperature is 19.3 °C (66.7 °F).
May marks the beginning of summer, and the temperature and rainfall increase continually. Long-sleeve shirts, sweaters, and overcoats or down jackets are enough for this weather. Bring an overcoat for the early morning and evening coolness. Ultraviolet radiation is a little stronger outside since the sun shines brighter, so use sunscreen to protect your skin. A sunhat, sunglasses, and suntan lotion are indispensable for avoiding the strong ultraviolet rays in this high-altitude area. Also bring lip protection, such as lipstick or lip balm. See our Lhasa Tours.
Lhasa Average Daily Temperatures Based on Historical Data
Date
Average High
Average Low
May 1
63 °F
17.22 °C
37 °F
2.78 °C
May 2
63 °F
17.22 °C
37 °F
2.78 °C
May 3
63 °F
17.22 °C
37 °F
2.78 °C
May 4
64 °F
17.78 °C
38 °F
3.33 °C
May 5
64 °F
17.78 °C
38 °F
3.33 °C
May 6
64 °F
17.78 °C
38 °F
3.33 °C
May 7
64 °F
17.78 °C
38 °F
3.33 °C
May 8
65 °F
18.33 °C
39 °F
3.89 °C
May 9
65 °F
18.33 °C
39 °F
3.89 °C
May 10
65 °F
18.33 °C
39 °F
3.89 °C
May 11
65 °F
18.33 °C
39 °F
3.89 °C
May 12
66 °F
18.89 °C
40 °F
4.44 °C
May 13
66 °F
18.89 °C
40 °F
4.44 °C
May 14
66 °F
18.89 °C
40 °F
4.44 °C
May 15
66 °F
18.89 °C
41 °F
5 °C
May 16
67 °F
19.44 °C
41 °F
5 °C
May 17
67 °F
19.44 °C
41 °F
5 °C
May 18
67 °F
19.44 °C
41 °F
5 °C
May 19
67 °F
19.44 °C
42 °F
5.56 °C
May 20
68 °F
20 °C
42 °F
5.56 °C
May 21
68 °F
20 °C
42 °F
5.56 °C
May 22
68 °F
20 °C
43 °F
6.11 °C
May 23
68 °F
20 °C
43 °F
6.11 °C
May 24
68 °F
20 °C
43 °F
6.11 °C
May 25
69 °F
20.56 °C
43 °F
6.11 °C
May 26
69 °F
20.56 °C
44 °F
6.67 °C
May 27
69 °F
20.56 °C
44 °F
6.67 °C
May 28
69 °F
20.56 °C
44 °F
6.67 °C
May 29
70 °F
21.11 °C
44 °F
6.67 °C
May 30
70 °F
21.11 °C
45 °F
7.22 °C
May 31
70 °F
21.11 °C
45 °F
7.22 °C
Lhasa Climate Information by Month

China Highlights
Lhasa Travel Guide