Top 8 Things to Do in Lijiang
Find below a list of the top 8 things to do in and around Lijiang
Lugu Lake
Sunrise on Lugu Lake
Lugu Lake is known as the "Plateau Pearl" and lies 200 kilometers (124 miles) from Lijiang City, which is about 6 hours' drive. It is a very beautiful and peaceful lake on the border of Yunnan Province and Sichuan Province. There are 5 islands, 3 peninsulas which are linked to a seawall on the shore by a path paved with small stones. The water is very clear and the transparency reaches to 12 meters. The mysterious Mosuo people live there, forming a matriarchal society known as the "Kingdom of Women". Read more on Lugu Lake
Enjoy a Lijiang Impression Show
Impression Lijiang is a cultural show about the traditions and lifestyles of the area's Naxi, Yi and Bai people. It takes place in the highest outdoor theater, around 3,100 meters above sea level, on a pasture highway up the Jade Dragon Snow Mountain. The unusual amphitheater is set so that the stunning mountains are an important part of the backdrop of the show.
Hundreds of amateur actors, singers and dancers participate and all are local ethnic minority people. The show uses recorded sound, unamplified singing of local folk songs, an impressive variety of traditional dress, video, horses and drummers. The blend of folk songs, dances and traditional rituals move many people to tears when they are watching the show.
Lijiang Ancient Town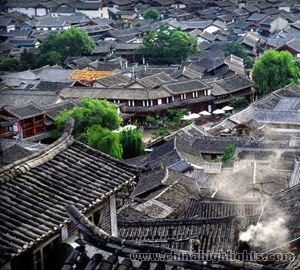 Lijiang Ancient Town
Lijiang Ancient Town is famous for its traditional ethnic culture and customs, inimitable buildings and the stunning natural views. The old town, the old buildings, the cobbled narrow pedestrian streets and small waterways, make Lijiang a beautiful and relaxing place. With numerous places to eat, shop and relax, it draws huge numbers of Chinese tourists. Yet despite this, you can still walk just a street or two away from the main attractions and still find peace and a special atmosphere. Read more on Lijiang Ancient Town
Shuhe Ancient Village
Shuhe is a small village a couple miles to the north of Lijiang. It has similar old architecture to Lijiang and similar Naxi people. It was once famous for its developed leatherworking and education but now it is a part of Lijiang Ancient Town. A major advantage over Lijiang is that it is relatively unknown so it is more rustic and tranquil. The streets are much less crowded and food and lodging is cheaper.
Jade Dragon Snow Mountain
Jade Dragon Snow Mountain is a holy mountain for the local Naxi people. It consists of 13 peaks covered with perpetual snow and extends for 15 kilometers. The scenery of the mountains and the surrounding areas is fantastic. You can take the Glacier Park cable car to the peak at about 4,000 meters high and enjoy the scenery on the way.
Baisha Murals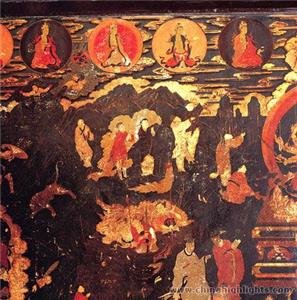 Baisha Murals
Baisha Murals, or Baisha wall-paintings, attract tourists with their characteristic painting style and precious historical and cultural meaning. They are a part of the World Cultural Heritage Site of Lijiang. The murals are intriguing, with a mixture of several religions (local, Mahayana Buddhism, Tibetan Buddhism, and Taoism).
They are located in the town of Baisha, about 10 kilometers north of Lijiang. It is the birthplace and political center of the Naxi minority.
Tiger Leaping Gorge (Hutiao Gorge)
The Tiger Leaping Gorge (Hutiao Gorge) is believed to be the deepest gorge in the world. It is located about 100 kilometers (62 miles) north-west of Lijiang Old Town lying between Jade Dragon Snow Mountain (Yulong Xueshan) and Haba Snow Mountain (Haba Xueshan). It is gorgeous every single step of the way. The gorge is considered to be one of the best hiking trails in China.
Go Bar-hopping in Lijiang Ancient Town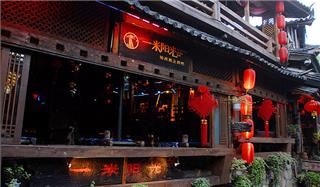 Bar housed in a traditional building in the Lijiang Ancient Town
Bars in Lijiang Old Town are a part of life. No matter what you like, there's a bar for everyone in Lijiang. Cocktails, brandy, whisky, vodka, rum; Lijiang bars probably have it! Sakura Bar, the biggest bar in Lijiang, is highly recommended. The DJ there is amazing. Other famous bars are 'Riding Alone for Thousands of Miles' and 'A Meter Sunshine'.
There are even Thai "ladyboy" shows and cultural performances by local minorities.
Questions and Answers About Top 8 Things to Do in Lijiang
April Offer $25 Coupon
Send your inquiry before Apr. 30, 2014, and we will email you a $25 coupon.
The coupon is valid till Dec. 31, 2014, for paying tour packages worth $250 or up.
The coupon cannot be used for paying flight tickets, train tickets, hotel rooms and day trips.
Travel Advice or Question? Ask us here

China Highlights