Lijiang Transportation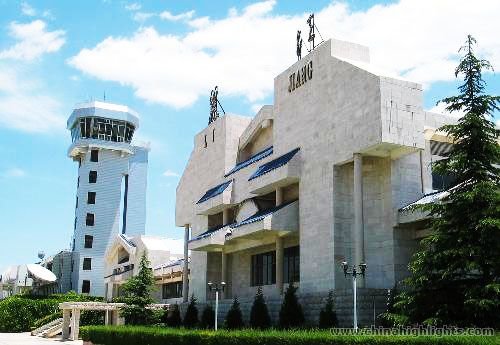 The city of Lijiang is located in the northwestern corner of Yunnan Province, just southeast of the border with Tibet Autonomous Region (Tibet, for short). It belongs to roughly the same beautiful terrain as Shangri-La, located about 200 km (125 mi) northwest of Lijiang, the quasi-mythical place described in the 1933 novel, Lost Horizon, by the British author James Hilton, which "paradise" was first described by the Austrian-American explorer, geographer, linguist and botanist, Joseph Francis Charles Rock (1884-1962) in a series of magazine articles published in the late 1920s in National Geographic.
As is true for many quaint villages and small towns and cities in China, Lijiang is mystically beautiful. So while getting here might under ordinary circumstances be half of the fun, we suggest that you instead 'cut to the chase' and get to Lijiang by the quickest means at your disposal – we feel confident that you will never regret it! Lijiang's Old Town is a UNESCO World Cultural Heritage site, its main ethnic minority being the Naxi, whose Dongba culture is also the main reason for the UNESCO recognition.

China Highlights
Planning a trip? Ask us here 800-2682918 (USA & CA)
86-773-2831999 (Int'l)
Q:
ana
Asked on 2013-02-02
Reply
Hi. Is there a fast train between Dali and Lijiang? From Kunming to Dali? Where can I get the schedule?
Hi Ana, there are no fast trains between Dali and Lijiang, nor from Kunming to Dali. Just normal trains. You can check schedules via here: http://www.chinatrainguide.com/
Whitney Liao Replied on 2013-02-03
Q:
Carry
Asked on 2013-01-19
Reply
Hello,I found out that the overnight train from Kunming to Lijiang has vip rooms. This is the website i found the pictures on: http://www.hkitalk.net/HKiTalk2/viewthread.php?action=printable&tid=518528. Its a cabine for 3 persons. Since we are travelling with our 7 year old daughter, it would be ideal for us! I saw several websites to book train tickets, but there is never an option to book these vip rooms. Can anyone please help? It would be for the 1st of April.
Hi Carry, The best seats on the overnight train from Kunming to Lijiang are soft cabins with 4 soft sleepers in each cabin. We do not offer train ticket booking service only, but we could book tickets for you in a tour package. Please know more about Lijiang tour here: http://www.chinahighlights.com/lijiang/tours.htm Regards, Coco Coco Yang Replied on 2013-01-19
Q:
tim walters
Asked on 2013-01-18
Reply
I live part time in Kaifeng china henan provence, I need to go to Hong Kong and get my visa restamped and then want to go to Li jang to visit a friend what is the best way to do that, should i go first to LiJang and then Hong Kong and then go from there to Chongqing to see my other friend. And then back to Kaifeng. I have to get my visa restamped to be out of mainland china I have to get my visa restamped and be out of mainland China by Jan 31 st and then i can have another 60 days here in China
Dear Sir or Madam, You could go to Hong Kong from Kaifeng for getting your visa restamped at first, then fly to Kunming. You could take a flight or a train to Lijiang, and then fly to Chongqing. At last go back to Kaifeng. You could search the time schedule of the flight or train on our website. Train:http://www.chinahighlights.com/china-trains/ Flight: http://www.chinahighlights.com/china-flights/ Lussie Lu Replied on 2013-01-19
Q:
S L Lau
Asked on 2013-01-13
Reply
Hi, We would like to travel from Kunming (2 nights) - Dali (1 night) - Lijiang (2 nights) back to Kunming (depart on the same day by 5pm flight). Is it possible for 4 of us to complete our sight seeing within 6 days? We dont mind travel by overnight VIP train or bus. Our flight departs Kunming at 5pm. Please recommended us some downtown hotels near food streets and shopping malls in Kunming, Dali and Lijiang range US45. to US50. Any better suggestion is very mush appreciated.
Hi Lau, yes, it is doable for 4 of you to complete your sight seeing within 6 days. Are there any kids or elderly people in your group? How old if yes? Please also kindly advise the exact date you would like to start the tour. Then we will send you a proposal.
Whitney Liao Replied on 2013-01-15
Q:
Richard Lee
Asked on 2012-11-04
Reply
Hi, good morning. I would like to travel from shanghai to Kunming/yunnan and to visit Lijiang River. Please kindly advise the most efficient route. Many thanks for your kind help. Warm regards, Richard
Hi Richard, either from Shanghai to Kunming or from Kunming to Lijiang, there is a long distance. So both recommend plane as transportation. Between Kunming and Lijiang, Dali is also highly recommended. Then you can fly to Dali first from Kunming, and drive to Lijaing from Dali. We are very glad to send you a detailed itinerary, please let me know below the information:
1. Number of people in your group including yourself
2. Length of stay in China
3. Inbound / outbound city
4. Starting date of the tour
5. Class of Hotel: 3 / 4 / 5 star
6. Estimative total budget per person
Whitney Liao Replied on 2012-11-05