Longsheng Hot Spring
The Longsheng Hot Springs National Forest Park is located in Jiangdi Village, 32 kilometers from Longsheng County and 137 kilometers from downtown Guilin. Covering an area of 260 hectares, the highest altitude of the forest park is 1,060 meters while the lowest altitude is 290 meters. In the park, there are many gorgeous mountains including Monkey Mountain, Five Sword Mountain and Chessboard Mountain. These mountains offered a mix of endangered plants and rare animals to be viewed by the tourists. The national park is covered by dense forest and has an average year round temperature of 17°C,so it is a great place to escape the city heat.
Major Attractions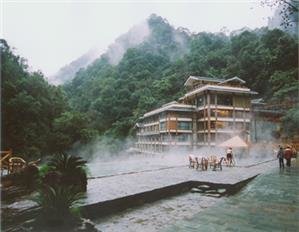 Longsheng Hot Spring Park
The major attractions in the Longsheng Hot Springs National Forest Park are the sixteen hot springs. As they contain natural hot spring water, the Longsheng Hot Springs are very beneficial to the human body.The water boils 1,200 meters underground with water temperatures ranging from 45°C to 58°C and the water, tested by experts, contains various elements including lithium, iron, zinc, strontium, copper and many others that are beneficial to health. Bathing in the hot springs has curative effects on nerves, skin diseases, rheumatism and arthritis. The spring water there is not only suitable for bathing but also for drinking directly because it is so pure and clear. It has now become the most famous hot spring area in South China and is an ideal place for a vacation.
As Longsheng County boasts of having a diverse population, the Longsheng Hot Springs National Forest Park is also the right place to see different Chinese ethnic groups. The minority nationalities living in the county include Zhuang, Yao, Miao and Dong groups. Each ethnic group has its own language, traditions and customs, so their architectures, costumes and festivals are identifiable and splendid. In the Longsheng Hot Springs National Forest Park,there are some folk culture villages, such as the Yao and Miao villages, built for tourists to get a better understanding about the ethnic groups. However,if you want to experience more than that, you need to goout of the hot springs park and explore the nearby areas that are inhabited by these minority groups. After that you will be impressed by the colorful lives and the rich cultures of these Chinese ethnic groups.
As the hot springs park is a national holiday resort, you are recommended to stay there overnight. The park has extensive facilities for tourists.There are hot spring hotels, bath centers, restaurants, bars, and banks. With the combination of natural beauty and modern entertainment, the Longsheng Hot Springs National Forest Park is a perfect place for a family vacation.
Travel Essentials
Location: Jiangdi Village, Longsheng County, Guilin
Ticket price:
Longsheng Hot Springs National Forest Park: CNY 20
Longsheng Hot Springs:
CNY 128 (including the ticket for the forest park) for adults and children over1.4 meters
CNY 64 (including the ticket for the forest park) for children between 1.1 meters and 1.4 meters
Children less than1.1 meters are free to enter
Opening hours: 8:00 am­-11:00 pm
Transportation:
Travel on your own: take the public bus from Guilin to Longsheng at Guilin Bus Station, and then change the bus to Longsheng Hot Springs National Forest Park at Longsheng Bus Station.
Travel with China Highlights: China Highlights helps to arrange private cars and tour guides for travelers to get great value when traveling.
Notice on the Hot Springs:
Please do not soak in the hot springs either one hour before or after a meal;do not soak in them when you are tired or drunk.
Take off all of your metal jewelry before soaking, preventing them from being eroded by the spring water.
Generally, the hot springs have various kinds of water quality and mineral contents. Choose the one suitable for your physical condition.
It's not suitable to bathe in very hot springs. The best hot spring temperature for bathing in is between 35°C to 45°C.
It's not suggested to soak in the hot springs for a long time. 15 to 20 minutes at a time is recommended and then rest for a while before taking another soak.If you feel uncomfortable while bathing, get out of the hot spring immediately and have a rest and a drink.
You are recommended to have a drink every 20 minutes during the bathing period in order to rehydrate your body.
It's better to take a shower after bathing in the hot spring if the spring water contains a lot of acid.
For people with chronic diseases, sensitive skins, wounds, fever or those who have just had an operation, a hot spring bath should be avoided.
Questions and Answers About Longsheng Hot Spring
shirley ooi
2010-07-20
Show Answer
hi Please let me know how to go Longsheng Hot Spring Hotel, If we plan to go from Yangshuo, How my KM? can we reach the hotel by car? or we need to walk a distance? What is the rate for the hotel? Any promotion now? we plan to check in 01.09.2010 and check out on 02.09.2010 Thanks Shirley
Hi Shirley, If you go from Yangshuo, it takes around 4-4.5 hours (210 KM) driving to Longsheng Hot Spring Hotel. You can reach the hotel by car. The standard room of Hot Spring center Hotel Long Sheng is US$84 including 2 Chinese breakfasts according to your schedule. If you wish China Highlights to arrange hotels or tours in Guilin including Yangshuo and Longshen for you, you could submit an order form online or send your enquiry to cotact@chinahighlights.com, you could get a reply in 1 working day. Nancy Nancy Deng replied on 2010-07-21
April Offer $25 Coupon
Send your inquiry before Apr. 30, 2014, and we will email you a $25 coupon.
The coupon is valid till Dec. 31, 2014, for paying tour packages worth $250 or up.
The coupon cannot be used for paying flight tickets, train tickets, hotel rooms and day trips.
Travel Advice or Question? Ask us here

China Highlights