Macau Tower
Summary
Macau Tower, the tenth tallest sightseeing tower in the world, is a member of the World Federation of Great Towers .
It combines sightseeing, a movie theater, a conference center, revolving restaurant, games machines and adventurous activities like the world's tallest buggy jump.
Visitor Activities
Dining, especially at 360° Café
Watch movies in the theater
Shopping on the ground level
Gaming at Tiger Slots
Adventure: mast climb, climbing wall, Sky Jump, Skywalk and Bungy Jump
Overview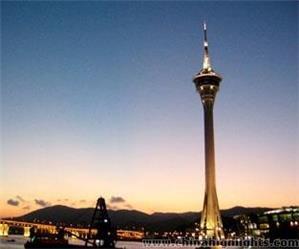 Macau Tower
Macau Tower (Portuguese: Torre Panoramica), measuring 338 meters (1,109 feet) from ground level to the highest point, is taller than the Eiffel Tower in Paris.
Soar up to 233 meters (764 feet) above the ground using one of the three high-speed glass-fronted lifts, where an unforgettable vista awaits you at the observation decks. The 360°Café is Macau's highest revolving restaurant, offering a sumptuous buffet that caters to all tastes and an amazing view in all directions.
Adventurous Activities
For those who prefer a thrilling experience, Macau Tower has five activities for you. Visitors can conquer Macau's highest summit (at 338 meters) and stand at the top of the tower by climbing 100 meters (328 feet) up the mast's vertical ladders, have a thrilling walk around the outer rim of the tower (233 meters above ground) with no handrail to cling to, or be a part of a Guinness World Record by taking the world's highest buggy jump from the 233-meter-tall platform. There is also the 233-meter Sky Jump to the ground below and a 32-meter (105-foot) climbing wall.
Contact us to design a tour including Macau Tower
Questions and Answers About Macau Tower
david neo
2012-11-14
Show Answer
I only have 1 day (19th Nov Monday next week) to spend in Macau. MY wife & I like to spend the day visiting historical sites and at the same time, like to taste the local food. what is the best way to go about on this? if there is a customised tour just for us, what is the cost? We will be coming from HKG and we have to return back to HKG before 6pm. thanks
Dear Sir, Sorry for late reply. We have a one day Macau tour from Hong Kong taking a ship for round trip. You will visit the Rin's of St. Paul, Penha Hill, Barrier Gate, Kum Iam Temple and Casino. It costs US$270 per person based on a group of two persons, including lunch. I think you might not take this tour, if your friends would like to visit Macau, please recommend it to them. Michael Hu replied on 2012-11-20
richard
2010-12-13
Show Answer
hi . how much is the macau tower bungee jump ? please list price in US dollars , approx .. thanks richard
Hi, Richard, Probably you can contact the company who manages the tower. Ruru Zhou replied on 2010-12-17
April Offer $25 Coupon
Send your inquiry before Apr. 30, 2014, and we will email you a $25 coupon.
The coupon is valid till Dec. 31, 2014, for paying tour packages worth $250 or up.
The coupon cannot be used for paying flight tickets, train tickets, hotel rooms and day trips.
Travel Advice or Question? Ask us here

China Highlights
Macau Travel Guide