Macau Facts
Name: Macau (澳門; àomén /aoww-mnn/)
Meaning: 'harbor gate'
Previous name: Cidade do Nome de Deus de Macau (City of the Name of God)
Features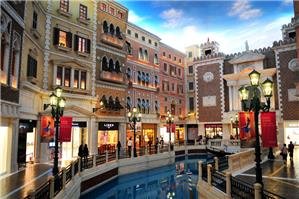 Venetian Resort, Macau
One of the world's top 20 or so tourist destinations
Some of the ritziest casino resorts in the world
25 locations and sites are altogether listed as a UNESCO World Heritage
A few beaches and parks
Some Portuguese and European architecture and remains
Main Attractions
Major casino-resorts: Venetian, City of Dreams and the Bubble, Wynn Macau
Ruins of St. Paul's Cathedral, Guia Fort, A Ma Temple, Coloane Village, Monte Fort, Macau Tower
Most popular souvenirs and local products: (duty free) investment gold, jewelry, Chinese antiques, Portuguese bottled wine
Most popular local food: pasteis de nata, pato de cabidela, almond cookies, Portuguese chicken
History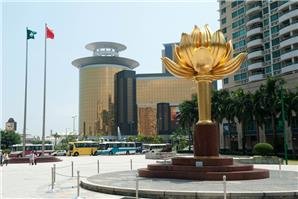 The Golden Lotus
The Portuguese trading settlement became the top casino, gambling, and resort city in the world.
1557 The Ming Dynasty consented to a permanent Portuguese trading settlement.
1849 Portugal declared Macau to be independent of the Qing Empire.
1974 Portugal relinquished colonial sovereignty over the territory.
1999 The Chinese government assumed sovereignty.
Geography
Significance of the city: Macau has become the main resort city for East Asia and Chinese people around the world.
Longevity record: Macau's small population set the world record for average longevity for an independent country/state.
Nearby cities: Zhuhai (11.8km/37 mi), Hong Kong City (Central District, 64 km/40 mi), Shenzhen (41 km/26 mi), Guangzhou (97 km/60 mi)
Municipality terrain: a small island, a piece of mainland and some landfill areas. The airport sits on a narrow artificial island. There are some hills.
Main river: Pearl River
Location Data
Macau is the most densely populated territory or state in the world.
Territory location: southern China near Hong Kong
Territory population: 550,000
Territory area: 29.5 sq km (11.4 sq mi)
Territory population density: 18,568/sq km (48,000/sq mi)
North to south width (including sea): 11.5 km (7 mi)
East to west land width: 3.4 km (2.1 mi)
City center: Cotai Strip (22.14N, 113.56E)
Climate
Annual average low temperature in January: 17.7 °C (64 °F)
Annual average high temperature in July: 31 °C (89 °F)
Humid subtropical climate; annual precipitation: 2,120 mm (89 in)
Macau's climate is generally mild with high humidity. There are occasional typhoons or tropical storms in the summers and autumns. See Macau Weather.
Economy
Average annual income: (2008) 464,450 MOP (59,541 USD)
Development: highly developed; its economy has been the fastest growing in the world, and the per capita annual income is ranked second in the world. There is also a significant clothing and footware industry.
Industry: at least 93% tertiary industry (gambling, entertainment, tourism, financial services)
CBD: Wong Chiw (Dynasty Area) (22.19N, 113.55E)
Shopping Streets: Grand Canal in the Venetian, Avenida Horta de Costa, Avenida do Infante D. Henrique, and Avenida de Almeida Ribeiro, Rua dos Negociantes
Macau International Airport handles about 5 million passengers annually.
2 main ferry ports
3 main bus companies
Questions and Answers About Macau Facts
CARY TAY
2014-02-19
Show Answer
WHAT SORT OF ELECTRICAL PLUG DI THEY USE
Hi CARY, they use flat 3-pin plugs. Whitney Liao replied on 2014-02-21
April Offer $25 Coupon
Send your inquiry before Apr. 30, 2014, and we will email you a $25 coupon.
The coupon is valid till Dec. 31, 2014, for paying tour packages worth $250 or up.
The coupon cannot be used for paying flight tickets, train tickets, hotel rooms and day trips.
Travel Advice or Question? Ask us here

China Highlights
Macau Travel Guide