Kuala Lumpur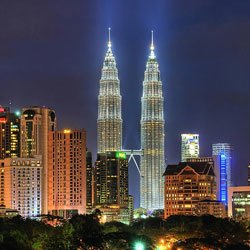 Various entertainments in Kuala Lumpur can cheer up even at night. Jazz, folk music and western music are lingering in all kinds of pubs and discos, a typical metropolitan scene. Talking of accommodation in Kuala Lumpur, there are many choices. If you want ones of high rank, you can go to Istana Hotel in Malaysian palace style or Golf Holiday Resort near the airport. Best choices for visitors and businessmen. Famous dishes across the world can be tasted here such as Malay cuisine, Chinese dishes, Indian dishes, western foods, Pakistani foods and Japanese cuisine. All kinds of goods can be brought here, from curios to most distinctive handicraft products and from famous designer clothes to the cheap but durable electronic products.
Genting Highlands are the newly-developed tourist and summer resort. It is located in the middle and east side of southeastern Kerbau Range. It is 50 kilometers far from the northeastern Kuala Lumpur.
In Kuala Lumpur, the capital, the most eye-catching building is the National Mosque in the city center. Its modern design and delicate decoration have well symbolized traditional Islam. Umbrella-shaped roof is very special, symbolizing an independence country's aspiration.

China Highlights