Malacca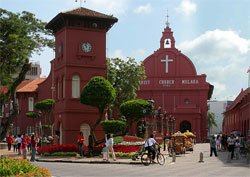 Malacca, the capital of Malacca state, is the oldest city in Malaysia. It is located in the north coast of Malacca Strait with Malacca River going through it. In 1403 it was built and once the national capital of Malacca country. Since 16 century, it was the colony of Portugal, Holland and Great Britain successively. For hundreds of years, Chinese, Indians, Arabs, Siamese and Java people immigrated here in groups. After years of cross-cultural communication, distinct cultural features have formed such as language, religion, and customs. You can find residence in Chinese style, red houses in Dutch style or the villages with Portuguese atmosphere.
Streets built in ancient times have been well deserved in the city. They are narrow and wandering. Houses always differ from each other. Many of them have delicate tiles, wooden doors equipped with lion-head-shaped knocker and windows engraved with dragon and phoenix pictures. All of those are expressing antique style of Malacca, an city with long history. Cheng Hoon Teng Temple is the oldest Chinese temple in southwest Malacca, Malaysia. It was built in 1645 and redecorated later with special wood produced in Malaysia. The plaque hanging outside reads four characters meaning Guanyin, a goddess is flying from south sea. As Guanyin goddess are worshiped here, this place is also called "Guanyin Temple".
Cheng Hoon Teng Temple boasts typical features of Chinese buildings. The wooden carving and lacquerwork presented there all come from China. There is only one stone monument in the temple. It was set up for the memorization of Zhenhe, a famous navigator in Ming Dynasty who visited Malacca in 1406. He was the Chinese who arrived at Malacca first.
The temple is very popular among people. There is a golden lion set in front of the temple. Only its head is not golden any more as followers always touch that part for the sake of good luck.

China Highlights