Sabah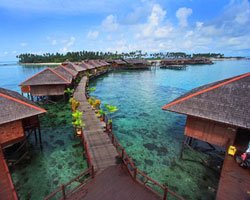 Undoubtedly, Sabah is an amazing tourist attraction not so much being explored. It is just a window for you to know how rich Malaysian tourist attractions are. Come to PangkorLaut and submerge yourself into the blue sea there. What welcome you are the great stretches of white coral and colorful actinia.
Punan people, a mysterious one, lives in Borneo, Malaysia. They always stay in the tropical rainforests with their distinct interesting traditions. The weather in Malaysia is warm and the people here just follow suit—They are warm-hearted. They always give visitors a friendly greeting "Apa kahabar"("How are you?" in English), smiling.
Kota Kinabalu is the state capital of Sabah, Malaysia. A city called "Kuching" in Sarawak. As for Chinese, Malaysia is not so unfamiliar. Signboards in Chinese can often be seen and Cantonese can be often heard, so it seems that we are traveling in a province of China.

China Highlights