Malaysia Food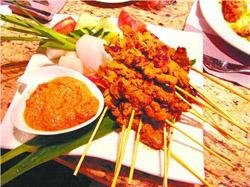 Malaysia deserves its name as "paradise for wonderful foods"as many distinctive foods are created there due to its multiple cultures. Just think about the following delicious dishes—Nasi Lemak, curry fish-head, Malaysian rice, Malaysian barbecue, Rendang Chicken, satay, Rojak Salad, Babas Nonyas fruit drink, Roti Prata, Bak Kut Teh, flour cake, curry chicken, Laksa, Ais Kacang and shrimp noodle, You can never miss them.
Fruits
Being a country boasting tropical rainforests, many tropical fruits are produced here. For example, durian, mangosteen, carambola, pineapple, litchi, nephelium lappaceum L., pitaya, longan, banana, etc.
NOTES
Nasi Lemak is prepared by steaming the rice together with thick mashed coconut.
Rendang is a Malay cuisine, and its origin is in Indonesia. It can be chicken, beef, mutton… even pork if you like, even though Malays don't eat pork.
Rojak Salad is prepared with many vegetables and fruits and salad.

China Highlights