Malaysia Weather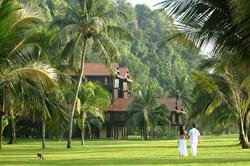 Malaysia, located near the equator, boasts tropical rainforest marine climate with no clear seasonal divisions. The yearly mean temperature fluctuates between 26 °C and 29 °C with little changes. The region is blessed with plentiful rain with monsoon from October to December. Time of visiting Malaysia is no big deal as it's suitable almost for the whole year. Although it's hot in the day, it will always shower in the afternoon and be windy in the evening. It is cooler in north Penang but temperature there are always comfortable.
It is monsoon from November to March next year for areas in east coast and east Malaysia. However, it gets very hot in April, May and October, so visit these area in other periods.
The average precipitation of West Malaysia is from 2000 to 2500mm and East Malaysia more than 3000mm. Minimum precipitation comes in June and July while maximum one in August and September and from October to December.

China Highlights