Hainan Province Map
This map of Hainan province shows the location of Hainan within China, and the capital city of Hainan.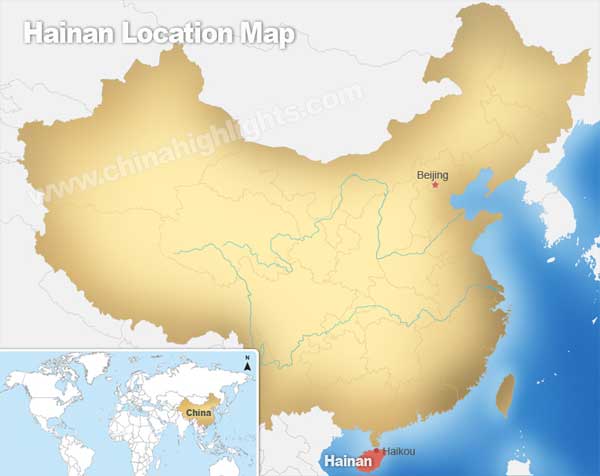 Hainan's location in China. Click here to enlarge!
Cities in Hainan Province

China Highlights
Planning a trip? Ask us here 800-2682918 (USA & CA)
86-773-2831999 (Int'l)
Q:
Andy
Asked on 2013-03-21
Reply
what is the best airport to fly into from LAX if I am staying in Hainan ?
Dear Andy, You could take a flight from Haikou airport(HAK)to LAX. Please click this link to check the details. Click: http://www.flychina.com/LFW/LowFare.aspx?Q3vaDfUOQKXYFa5hvjGh%2bsoVQyJryMRPGVWbsQcwMhEb%2fr4NQd2dZVleW2s9ECPA7SI7tNTeKg2KlfdE0%2bEfuis0I1FlEy4fYqRohITbZPEPSazKdZdoL6H20YqDpneAJnKzI7kj4Umtb8IjMY7ubQ%3d%3d Lussie Lu Replied on 2013-03-21