Bogda Khan Winter Palace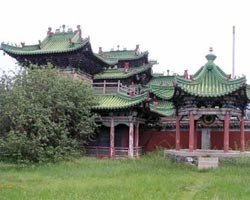 To see an older building than those on the square in Ulaan Baatar, there is the Bogd Khan Winter Palace in southern Ulaan Baatar. It was built between 1893 and 1903 when Mongolia was a part of the Qing Empire. It was a palace where the Mongolian ruler Bogd Khan lived. It is now a museum. It has exhibits of the clothes and articles that the rulers used, some of the furniture, and gifts he received. The complex includes six temples. Some of these of a distinctly Manchu look like buildings in Beijing. Though he was considered a Buddhist deity, he wasn't popular.
Bodg Khan (1869-1924) was both a vassal of the Qing Dynasty and a Living Buddha. He was thought to be the reincarnation of the Buddha. He was thought to be number three in the Tibetan Buddhist hierarchy after the Dalai Lama and the Panchen Lama. He became emperor on December 29, 1911, and he was the last Mongolian ruler. He was hated by many. Contemporaries portrayed him as an alcoholic who had much sex during his performance off Buddhist ceremonies. He was thought to have a lot of vices, but a lot of these vices were accepted as part of a monk's life. He contracted syphilis that slowly blinded him. He is known to have killed or poisoned many people who he thought opposed him, even emissaries sent by the Dalai Lama of the time. He died in 1924, and the Mongolian People's Republic began.

China Highlights