Ganden Monastery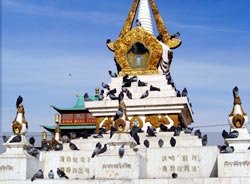 Ganden Monastery located in the center of Ulaanbaatar city, is the biggest temple in Mongolia, built in 1809, the14th year of Emperor Jiajing's reign in the Qing Dynasty. Jiaqing chronology. The predecessor of Ulaanbaatar city, Big Cullen, developed to a town on the basis of Ganden Monastery.
Ganden Monastery was built by Djibouti Danba IV, where was specified to study the sutra. The big and small temples are connected together, with extremely architectural beauty. The Leader of Shamanism, Buddhism, Gan Bao Lama, ever lived here, and Dalai Lama has visited here for many times.
The focus of the temple is the biggest Bronze Buddha in the world. It is 28 meters high, with gold covered all the body part, and decorated by plenty of jewelries. With its extremely extraordinary and appearance, it was regarded as Mongolia's national treasure.

China Highlights