Lake Hovsgol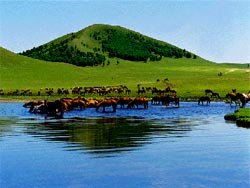 In Mongolia, everybody is familiar with Lake Hovsgol, which lies in Mongolia's vast grassland like a huge, stainless and shining pearl. It's said that, because the existence of Lake Hovsgol, the grant and beautiful earth of Mongolia appears more charming scenery.
Lake Hovsgol is close to Russia's border, with water area of 2760 Square kilometers; total have 96 rivers flowing into the lake, and water reserves is 380 billion cubic meters, which is the important fresh water reserves in Mongolia. The lake passes through Mongolia's biggest river—Selenggehe River, flowing to Russia's Baikal Lake.
Through the deepest depth of Lake Hovsgol is 262.4 meters, the water is so clear that you can see the bottom of the lake. If you look down into the water, you will see the colorful stones and lively fish in the bottom.
As seasons change, the lake changes its color, too. In golden autumn, the forests around the lake all take its color. Look around; the green mountain alternately changes its color, from dark to light, green, light green, red, light red, yellow, light yellow and other color appearing in line, just like a colorful and beautiful picture. For the reflect of the sunlight, they are reflected in the lake, at this moment, seems all the colors in the world gather together in here, and the extraordinary beauty cannot be described in any words.
In winter, the lake is covered by snow, the jungle and mountains around looking like wearing a pure while clothes with shining helmet. In the morning, as the sun rising, herders sit on the sled driving by deer, singing the melodious Mongolian songs, passing the lake to drive to the Hill.

China Highlights