Confucius Temple
If Sun Yat-Sen was important in the founding of modern China, Confucius (Kong Fuzi), who taught philosophy in China 2,500 years ago, is considered the most important figure in the shaping of ancient Chinese civilization as well as the cultures of Japan, Vietnam, and Korea. Confucius was born in 551 BC in the Lu Kingdom, south of modern Shandong Province. Knowledge of the Confucian texts written after he died and of Chinese characters became the key to success when taking imperial examinations in China for a thousand years before the modern era. To pass the test, people had to memorize entire texts.
The Confucius Temple is south of the city's central district. The temple was first built on the banks of the Qinhuai River in the year 1034, during the Song Dynasty. During the past millennium, the temple was renovated, reconstructed, and enlarged, creating a large complex used by Confucian scholars. Next to it was the Jiangnan Gongyuan, the largest examination area for people taking the imperial examinations, and the Xue Gong, the Qing Imperial Academy for training mandarins to govern the vast empire. The Japanese destroyed the entire complex in 1937.
In 1984, the government constructed new buildings in the Ming and Qing styles. Around it, tourist shops, snack bars, restaurants and hotels were developed, and in the complex are shopping boutiques that feature local craft objects such as wood carvings and Yuhua Pebbles, commodities such as salted duck and tea, and manufactured souvenirs such as folding fans and silk fabrics. Inside the building is a large statue of Confucius and panels with jade, gold, and silver that illustrate the life of Confucius.
Questions and Answers About Confucius Temple
nibret T. Alemayehu
2010-10-16
Show Answer
I am an ethiopian I want to start confucius institute of chinese languge for ethiopian. I want some information about it.
Glad to know that confucius culture is so popular around the world. Anyway, we are a travel agency that providing service of land service, acccommodation, transportation for customers who want to visit China, so I would like to suggest you to find information from China's culture department or embrassy. Delia Xie replied on 2010-10-17
April Offer $25 Coupon
Send your inquiry before Apr. 30, 2014, and we will email you a $25 coupon.
The coupon is valid till Dec. 31, 2014, for paying tour packages worth $250 or up.
The coupon cannot be used for paying flight tickets, train tickets, hotel rooms and day trips.
Travel Advice or Question? Ask us here
You might like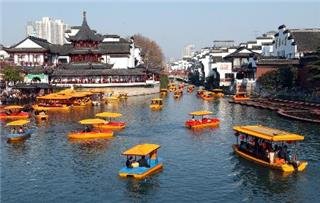 Free Things to Do in Nanjing

China Highlights
Nanjing Travel Guide