Dr.Sun Yat-sen's Mausoleum
Sun Yat-Sen (Nov. 12, 1866 to March 12, 1925) was probably the most important political figure and revolutionary in China around the turn of the 20th century. One of his legacies was publishing his political philosophy called the "Three Principles" of nationalism, democracy and people's livelihood. He said that his three principles were inspired by Abraham Lincoln's Gettysburg Address. Understanding his life and influence in the world will help people to understand modern China and Taiwan.
He was born in Guangdong Province near Hong Kong. When he was 13, he went to Honolulu, Hawaii and was educated in a school. Hawaii is the big islands in the middle of the Pacific Ocean and is now a state. He learned English so quickly there that he received a prize from the Hawaiian prince. After finishing that school, he enrolled in Oahu College in Hawaii. Then he left Hawaii without graduating from the college, and returned to Guangzhou. He fled to Hong Kong after he attacked and damaged an idol in a temple, and enrolled in a Christian academy in 1884 where he studied English. Then he studied medicine in Hong Kong and was certified as one of the first two medical doctors to graduate from his medical school in Hong Kong. Though he was a doctor, political, social and religious change was the main goal of his life. He started traveling around the world to organize people and collect funding.
He died in 1925 in Beijing. Just before his death, he reiterated something he had said before: "I wish that after my death I could be buried at the foot of the Purple Mountain in Nanjing because Nanjing was where the Provicial Government of the Republic of China was established, and we should never forget the Revolution of 1911."
The mausoleum is very big, and there is a big gate at the entrance to the area in front of the grand stairway. It was built between 1926 and 1929. In the center of the hall is a 4.6-meter-high statue, and there is a white marble coffin. The mausoleum was built by the Republic of China government. In 1929, his body was carried there. Visitors say that the size of the mausoleum is impressive.
Questions and Answers About Dr.Sun Yat-sen's Mausoleum
shamshad
2013-05-18
Show Answer
hi ruby, would you like about beaches in nanjing, then we make tour plan, i wait for your kind reply with thanks
The beach close to Nanjing is called Lian Island, located in Lianyungang City. You could take bus at Nanjing Zhonghuamen long-distance bus station to Lianyungan City (leaving at 06:30, duration of 5 hours, CNY120 per person)
Karen Yang replied on 2013-05-22
Theresa Possley
2012-10-07
Show Answer
I need a 2 attraction day tour in Nanjing. Someone to pick me up at the Intercontinental around 9 am take me to the Confucius temple, have lunch, and then take me to the Sun Yat Sen mausoleum and then drop me off at the Nanjing Na train station by 6pm. English speaking guide.
Hi Theresa, we can arrange this tour for you. In order to give you an accurate quotation, please answer a few questions so that we can construct an itinerary that gives you what you want at the best possible price. 1. Number of people in your group including yourself 2. City or cities of entry/exit 3. Start date of Tour 4. Class of Hotel:3/4/5 star 5. Estimative total budget per person. After getting further information from you, we will send you the detailed itinerary. Whitney Liao replied on 2012-10-09
April Offer $25 Coupon
Send your inquiry before Apr. 30, 2014, and we will email you a $25 coupon.
The coupon is valid till Dec. 31, 2014, for paying tour packages worth $250 or up.
The coupon cannot be used for paying flight tickets, train tickets, hotel rooms and day trips.
Travel Advice or Question? Ask us here
You might like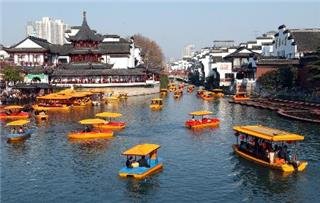 Free Things to Do in Nanjing

China Highlights
Nanjing Travel Guide