Nanjing Yangtze River Bridge
Summary
Nanjing Yangtze River Bridge stretched across the Yangtze River (the largest river in China, ranking the third largest one in the world) and plays an important role in promoting the communication between both banks of the Yangtze River. In 1960s, the bridge was listed in the Guinness Book of World Records for 'the longest bridge with dual functions of highway and railway'.
Overview
The construction of Nanjing Yangtze Bridge was finished in 1968, taking eight years. The bridge is the first double-deck combined bridge solely designed and constructed by Chinese in China. The main bridge portion of Nanjing Yangtze River Bridge spans 1,557 meters (about 5,108 ft) and the bridge approach measures 3,012 meters (9,882 ft) The upper deck is for highway with 4,589 meters (15,956 ft) long, and the roadway is 15 meters (49 ft) wide. On the both sides, there are 2-meter or 6.7-ft wide sidewalks. The lower deck is for railway with 6,772 meters (22,218 ft) long and 14 meters (46 ft) wide.
The bridge for highway is built with Chinese traditional style of double-convex arch bridge. There are 200 reliefs made by cast iron inlayed into the railings of the main bridge portion for highway. At both ends of the bridge situate two bridge towers with about 10-meter-height sculptures lying in front of them (these sculptures symbolize labor, peasant, soldier, student and businessman, which is typical civilization of the Cultural Revolution, a political movement leaded by Mao Zedong from 1966 to 1976), and each of them is 70 meters (about 230 ft) high. Visitors can take elevator to reach the belvedere to have a view for the vast Yangtze River and the marvelous bridge. In addition, under the south bridge tower is Daqiao Park with nice landscape.
The bridge has nine piers. The largest one is 85 meters (279 ft) high and the basal area is about 400 square meters (4,305 square ft), larger than a basketball court. At night, the bridge is decorated by 1,048 floodlights, 540 halogen lamps and 150pairs of street lamps shaped in magnolia flower, which makes the bridge a string of glowing pearl stretching across the Yangtze River.
Travel Essentials
How to get there: Visitors can take buses 132, 136, 150, 151 and 159 to the bridge, and there are bus stops on the bridge.
Ticket Price: the ticket price for Daqiao Park is 7 yuan per person, and that for visiting bridge towers is 8 yuan per person.
Questions and Answers About Nanjing Yangtze River Bridge
Al lieu
2013-02-24
Show Answer
What is the cheapest package deal to Shanghai China for two?
There are two types of tour in Shanghai for your consideration. One is private tour and the second one is seat-in-coach tour (group/coach tour). Let me know know more of your tour plan such as when will you stay in Shanghai, how many days and interests etc. so that we could send you proposal accordingly.
In a private tour, you will have your own guide and driver and we could customize the itinerary for you, which means you will be the boss to decide when and where to start and visit, and as your travel advisor we will give you suggestion accordingly. This type of tour is relatively higher, but price will be better when you have more people to share the cost or you buy more tour with a package.
Another tour type is seat-in-coach tour (group/coach tour), which has fixed tour date and itinerary and lower but also fixed price.
1. China Highlights does not operate Seat-in-Coach Tours. We act as a booking agent for specialized SIC operators.
2. The coach will pick up and return all tour guests to their hotels. This may mean that guests spend a substantial time on the coach while traveling between hotels. This time onboard the coach is always included as part of the duration of the tour.
3. A large tour group obviously reduces the ability of the guide to answer particular questions from guests and satisfy special requests from guests.
4. Guests may be required to move through the attractions at a pace faster that they wish, to meet the demands of the whole tour party and the time restrictions.
5. If you need to catch the overnight train, you will need to check out the hotel before you start the tour and you could save your luggage in the lobby.
6. China Highlights specializes in Private Tours but we also realize that some people prefer a slightly less expensive option. Is order to achieve these savings we sometimes use Group Tours run by other operators to reduce the cost to our customers. These tour operators will usually have two shopping opportunities each day and will also offer optional tours during the tour or at night. These shopping stops and tours provide income for the operator, the guide and driver. China Highlights has no control over this activity. We want you to be aware of this in advance.
Delia Xie replied on 2013-02-25
April Offer $25 Coupon
Send your inquiry before Apr. 30, 2014, and we will email you a $25 coupon.
The coupon is valid till Dec. 31, 2014, for paying tour packages worth $250 or up.
The coupon cannot be used for paying flight tickets, train tickets, hotel rooms and day trips.
Travel Advice or Question? Ask us here
Page Rating:
4.50

/

5
based on
41
ratings.
You might like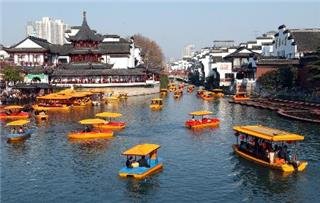 Free Things to Do in Nanjing

China Highlights
Nanjing Travel Guide