Night performance at Zhanyuan Garden
This performance features the Ming Dynasty culture. Its innovative creation and perfectly integrated unique stage settings, including coloured lanterns, traditional architecture, charming garden scenery of the garden set the background for an excellent stage performance.
Zhanyuan is the most beautiful garden in Nanjing. Its night scene is especially charming with coloured lights.
You might like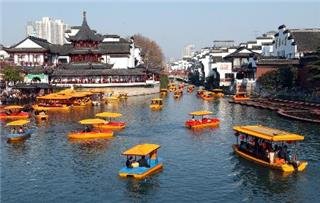 Free Things to Do in Nanjing

China Highlights
Planning a trip? Ask us here 800-2682918 (USA & CA)
86-773-2831999 (Int'l)
Q:
becca21
Asked on 2011-03-26
Reply
My family are coming to visit me in Nanjing at the end of this week and I would like to take them to some sort of show in the evening. When and where is this on? And is there any other things you would recommend to do in the evening in Nanjing? Thank you
Sir or Madam, i do not know whether there is evenning show at Nanjing, usually our clients might take free walk around Xuanfu Lake or the evening cruise along Qinghuai River. You could check the price and schedule at some downtown hotels (e.g. Xuanwu Hotel Nanjing or Mandarin Hotel). Good luck! Karen Karen Yang Replied on 2011-03-27
Q:
kok Hee
Asked on 2010-06-16
Reply
I am visiting Nanjing, is there any night market around?
Hi. For night markets in Nanjing, you can go to Guangdong Road, Hunan Road, Shanghai Road and Zhujiang Road. Mia Yang Replied on 2010-06-16
Nanjing Travel Guide