Presidential Palace
The Presidential Palace is a huge complex of buildings with various sites of the Taiping and modern government rulers. There is the "Secret Room" of the Taiping with beautiful furniture. The complex has mannequin displays that instruct on history, preserved and recreated rooms, and artifacts from the time that the Taiping ruled the city and the modern government leaders lived and ruled at the site. Sun Yat-Sen presided there in 1911. And Chiang Kai-Shek left in 1949.
The Taiping Rebellion leaders tried to conquer China. They had a large territory until Nanjing was conquered in 1864 by the Qing army. The history of this large movement is fuzzy. They had their own coinage, style of dress and a religion that included Christian beliefs. The Taiping leaders adopted many policies including the prohibition of opium smoking, gambling, the use of tobacco and wine, polygamy, the sale of slaves, and prostitution. They promoted the equality of the sexes, they abolished foot-binding and appointed women as administrators and officers. It is said that when the Qing army invaded, 100,000 people were massacred or committed suicide.
Address: No. 292 Changjiang Road, Xuanwu.
Page Rating:
4.58

/

5
based on
31
ratings.
You might like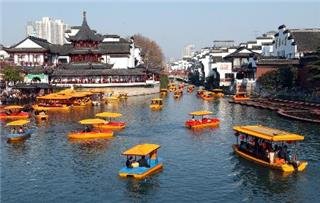 Free Things to Do in Nanjing

China Highlights
Nanjing Travel Guide