Purple Mountain
Purple Mountain is just west of urban Nanjing. It has many parks, sites and scenic areas connected to the park area including Xuanwu Lake and Jiming Temple at its foot to the east. Sun Yat–Sen walked on the mountain, and his mausoleum is on a small hill at its base. The ancient historical sites include the Ming Xiaoling Mausoleum and Linggu Temple. Another major ancient historical site is the tomb of Sun Quan from the Three Kingdoms period. There is a big pond called Zixia Lake. Since many of the Nanjing highlights are on or around the mountain, it is an important destination in a tour of Nanjing.
Location The mountain can be seen west of the city. It is near the main train station called Nanjing Train Station (or Nanjing North Train Station).
Transportation: Take Bus No. 9 or Bus Y1 from the city. You can catch Bus No. 9 at Xinjiekou. Many other buses go there.
Page Rating:
4.88

/

5
based on
4
ratings.
You might like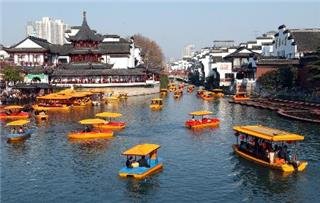 Free Things to Do in Nanjing

China Highlights
Planning a trip? Ask us here 800-2682918 (USA & CA)
86-773-2831999 (Int'l)
Q:
Aritra Basu
Asked on 2011-09-29
Reply
Hii how is purple mountain? How cn we go from nanjing city? I am interested in hiking on mountain. How many mountains are there nearby for hiking? how long from purple mountain?
Hi Aritra, You can take a taxi or subway Lane 2 to get to the Purple Mountain. You also can take Bus No. 9 or Bus Y1 from the city. You can catch Bus No. 9 at Xinjiekou. Many other buses go there.The major mountain is the Purple Mountain in the Park. But you can visit Xuanwu Lake, Ming Xiaoling Mausoleum and Linggu Temple. Michael Hu Replied on 2011-09-29
Q:
AkhilAsokan
Asked on 2010-10-04
Reply
go and see yu ha tai its really good place nice seneries and historical place
Hi, Thank you for visiting our web site and your interest in our services. My name is Michael Hu. I am a travel advisor at China Highlights. It is my pleasure to assist you in planning your trip to China. Please let me know if anything I can help with. Michael Hu Replied on 2010-10-05
Nanjing Travel Guide