Nanjing Food
Nanjing has a relatively wide selection of local foods called Jin Su cuisine, along with restaurants featuring Chinese cuisine from other provinces and foreign restaurants. The prices are lower than in Shanghai. You can find both Chinese and Western food.
A local favorite is Yanshui Ya (salted and baked duck), and you can see the ducks hanging in shops and restaurants. Another local dish is Eight Delicacies Soup made of fish, water chestnuts, lotus root, parsley, arrowroot, lotus seeds and other ingredients. This is a popular dish especially around "Moon Festival" time. A good place to go for Nanjing cuisine and Chinese cuisine is the area around Confucius Temple and the Qinhuai River.
If you want to have a western meal, then there are western style restaurants serving the expats and students on Shanghai Lu that is a street near universities.
Questions and Answers About Nanjing Food
amin frankie
2013-07-21
Show Answer
hello, i''m planing to study clinical medcine in southeast university in jiangsu,nanjing.can u please help me by giving all details about the climate ,budget food,travel and please don''t forget to mention about southeast university.
Dear We listed some information about food, restaurants, hotels, tour packages, weather on our website for your reference. Please click:http://www.chinahighlights.com/nanjing/ Here is the official website of southeast university, you could realize more about it, click: http://www.seu.edu.cn/s/132/main.jspy Lussie Lu replied on 2013-07-22
M S Gaur
2013-03-09
Show Answer
I along with my wife are planning to visit China first time. We have business in Nanjing for two working days. We both are strictly vegetarians and do not eat even eggs. We have ten days in hand including two working days in Nanjing. Can you suggest us an itinery. we will be travelling from New Delhi India.We do think to spend five nights in Hong Kong during our return journey.
Hi M S Gaur, We are very glad to help plan your China tour. In order to give you an accurate quotation please help me with below the information: 1. Inbound / outbound city 2. Starting date of the tour 3. Places or attractions that you want to visit 4. Class of hotel: 3 / 4 / 5 star 5. Estimative total budget per person After getting further information from you, we will send you a detailed itinerary. Whitney Liao replied on 2013-03-11
leony
2012-11-06
Show Answer
I will visit nanjing by the middlE of this mont until the middle of next year. I have a. 1 year baby. Is the weather safe for her? And can I get food easily for baby there?
Hi Leony, Nanjing is cold in winter time, with heavy humidity and occasional snow. November is a little warm. January is the coldest month with the low temperature dropping to -7 °C (19 °F). The average low and high temperature is respectively at 0 °C (32 °F) and 9 °C (49 °F) in December, -2 °C (29 °F) and 7 °C (44 °F) in January. Down jackets or cotton-padded coats, sweaters and thick jeans are suitable to cope with the weather. I don't know if this weather will be safe or not, to a baby of 1 year old. But it is easily to get food for baby in Nanjing.
Whitney Liao replied on 2012-11-07
Ranjith
2012-09-26
Show Answer
Me and my wife will be visiting Nanjing on October 10. I took accommodation at Orange Hotel (Nanjing Donghuamen). I would like to know how to reach this hotel from Nanjing airport. Also, are there any Indian restaurant near by this Hotel. If so, how far it is from this Hotel. Thanks in advance.
Hi Ranjith, you can take a taxi to Orange Hotel. It is about 45km from the airport, takes 50-60mins and costs CNY150-170. Himalaya Nepalese & Indian Restaurant ? Chinese name: 喜马拉雅尼泊尔印度餐厅 Ximalaya Niboer Yindu Canting /sshee-ma-la-yah nee-bo-er yin-du tsan-ting/ ? Average price per person: 87 yuan ? Opening hours: 11am–2pm; 5pm–10:30pm ? Address: Shi Gu Wan Food and Leisure Block, 193 Shigu Road, Baixia Distict (白下区石鼓路193号石鼓湾美食休闲街区) ? Tel: 025-8666 1828 ? Transportation: Take bus 5, 9, 18 or 805 and get off at Mochou Road (莫愁路); take bus 312 or 317 and get off at Luolang Lane (罗廊巷); take bus 13, 43, 48 or 83 and get off at Mochou Road (莫愁路); take bus 29 or 68 and get off at Pailou Lane (牌楼巷) or take subway line 2, get off at Shanghai Road (上海路) and exist from E3. It is only 6km from your hotel. Whitney Liao replied on 2012-09-28
UDAYAN
2010-10-27
Show Answer
IS INDIAN VEGETARIAN FOOD AVAILABLE IN NANJIN? IF SO NAME THE PLACE.
HIMALAYA NEPALESE & INDIAN RESTAURANT is one of the famous in Nanjing: http://www.njhimalaya.com/ Cindy Feng replied on 2010-10-27
April Offer $25 Coupon
Send your inquiry before Apr. 30, 2014, and we will email you a $25 coupon.
The coupon is valid till Dec. 31, 2014, for paying tour packages worth $250 or up.
The coupon cannot be used for paying flight tickets, train tickets, hotel rooms and day trips.
Travel Advice or Question? Ask us here
You might like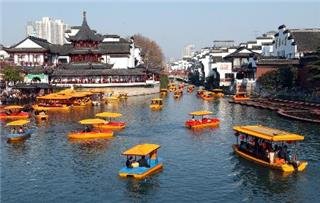 Free Things to Do in Nanjing

China Highlights
Nanjing Travel Guide